Permira dismisses Hugo Boss takeover speculation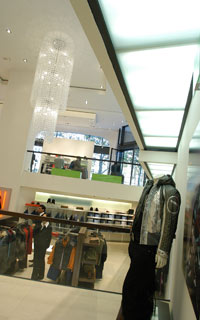 Hugo Boss (Photo PixelFormula)
FRANKFURT, April 15 (Reuters) - Private equity company Permira [PERM.UL], owner of Hugo Boss, on Thursday 15 April dismissed market talk about a possible ownership change at the German fashion house.
Boss shares rose as much as 6.5 percent as traders said the Marzotto family, co-owners with Permira of a company that holds 55 percent of Hugo Boss's voting shares, may be planning a bid for remaining Boss ordinary shares at 27.75 euros ($37.85) each.
Ordinary shares (BOSG.DE) were 5.3 percent higher at 25.795 euros by 1120 GMT, while non-voting preferred shares (BOSG_p.DE) stood 2.9 percent higher at 32.68 euros.
A Permira spokesman dismissed the talk and referred to comments from Permira's head of Germany, Joerg Rockenhaeuser, who said that Hugo Boss was not up for sale, "not today, not tomorrow and not the day after tomorrow".
The Marzotto family was not immediately available for comment.
Permira bought Valentino Fashion Group and Hugo Boss in 2007 from the Marzotto family, which still holds 22 percent in the holding company Red & Black.
The rumour emerged after the Financial Times Deutschland newspaper highlighted in an article on Thursday 15 April the appointment of four new supervisory board members at Hugo Boss -- among them Luca and Gaetano Marzotto.
The brothers moved on to the board in February along with Klaus Meier, a former Mercedes manager and Permira's Damon Buffini, replacing Permira managers as well as Olaf Koch, chief financial officer at German retailer Metro (MEOG.DE).
The move came after Permira and the Marzotto family in December paid over 250 million euros ($341 million) to reduce the debt level of Valentino Fashion Group -- which Hugo Boss was still part of at the time. (Reporting by Anika Lehmann, Alexander Huebner and Eva Kuehnen in Frankfurt, Antonella Ciancio in Milan, Simon Falush and Joanne Frearson in London and Blaise Robinson in Paris; Editing by David Cowell)
© Thomson Reuters 2023 All rights reserved.