Payless owner bullish on back-to-school
(Reuters) - Collective Brands Inc (PSS.N) is optimistic that back-to-school sales in the United States will be stronger this year than in 2009, especially in higher-end brands, its chief executive said on Tuesday.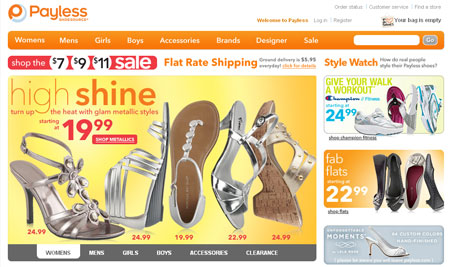 www.payless.com
Speaking by telephone to the Reuters Consumer and Retail Summit in New York, CEO Matthew Rubel said he was optimistic about the upcoming back-to-school season and that sales should be higher as some consumers open their wallets a bit wider.
"I believe it will be up," Rubel said. "I believe it will be substantially up on the premium end and up a little bit on the mainstream end."
Collective Brands, the holding company of Payless ShoeSource and Stride Rite, is seeing demand for its toning shoes, such as the Champion Fitness shoes sold at Payless.
Rubel said toning shoes, which claim to work leg and buttock muscles, should make up about 5 percent of the company's overall sales by the end of the year, up from 1 percent in the first quarter and 2 percent to 3 percent in the second quarter.
Rubel said consumers may once again spend as loosely as they did before the recession, but doubts it will be any time soon.
"I'm sure there will be periods of it at some point. I don't know when the next period is, but we're an aspiring people," Rubel said. "I doubt that it'll never come again, but I don't think it's coming in the next three to five years."
"We really feel there's two economies going on out there," Rubel said, noting that the middle and upper classes are starting to spend again, especially on products that are innovative. At the lower end, lingering unemployment and weak real estate values are keeping other consumers very cautious.
MOVES ABROAD
The company's wholesale shoe business includes brands such as Stride Rite, Keds, Sperry Top-Sider, Robeez and Saucony. In an effort to boost its retail network, Collective Brands recently opened five Sperry Top-Sider stores.
Rubel said he expects to open 10 more Sperry stores in the United States next year and to double the overall total the following year. The company is not expanding its Payless chain in the United States, though it is expanding it abroad.
Payless currently has about 12 stores in the Middle East and plans to open stores this summer in the Philippines and Russia. It is also expanding in Latin America.
Collective Brands once sourced as much as 95 percent of its goods from factories in China, but has trimmed that to about 85 percent as it has increased production in other countries including Vietnam, Indonesia and Mexico. Rubel sees the proportion of goods sourced from China declining every year for the next five years.
"China will be a lower percentage of our sourcing each year for the next five years but it still has an infrastructure, a quality and an ability to cost goods that is highly competitive with the rest of the world," Rubel said. Even with the slow migration, China will probably continue to account for the majority of its goods in the near future.
"There would have to be something material for that to change in the next four years or five years," Rubel said. "Could it be the minority 10 years out? Maybe."
Collective Brands shares were down 27 cents, or 1.5 percent, at $17.71 in afternoon trade on the New York Stock Exchange.
(Reporting by Martinne Geller, editing by Matthew Lewis, John Wallace, Phil Berlowitz)
© Thomson Reuters 2023 All rights reserved.