P&G CEO unhappy with Wal-Mart venture's execution
Jan 27 - Wal-Mart's entertainment union with Procter & Gamble Co is not a marriage made in movie heaven yet, according to P&G's top executive.

Wal-Mart Stores Inc, the world's largest retailer, teamed up with P&G, the biggest household products maker, to promote family-friendly television programming last February.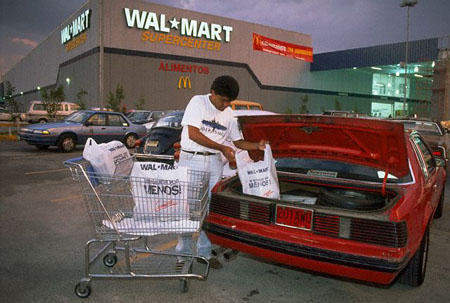 A man loads his trunk with items purchased at the largest Wal-Mart store in the world in Mexico City.
The duo airs TV movies and collaborates on advertising and displays in Wal-Mart's U.S. stores.
P&G Chairman and Chief Executive Bob McDonald, a strong promoter of the Family Movie Night concept, said execution "has not been as good as we would like."
There have not been as many P&G items in Wal-Mart's circulars or as many displays in stores around the times that the movies air as there should be, McDonald said during his company's quarterly conference call on Thursday.
Wal-Mart is P&G's biggest customer. In the last three years, 16 percent of P&G's total sales were to Wal-Mart, where it sells goods such as Crest toothpaste and Tide detergent. In fiscal 2010, about $12.6 billion of P&G's sales were to Wal-Mart.
P&G is growing "very well" at Wal-Mart's international stores and its Sam's Club locations, McDonald said.
"The place where we're focusing to help Wal-Mart grow more is in U.S. stores."
Those stores have been a sore spot for Wal-Mart, which has seen sales at its U.S. discount stores open at least a year fall in each of the past six quarters.
McDonald stressed that P&G does not have problems with its products or prices in Wal-Mart's U.S. discount stores, but its issues stem largely from execution.
He also said that P&G is working with Wal-Mart to improve sales in other ways, such as helping add battery displays back to its stores. P&G's Duracell is a leading battery brand.
P&G reported a lower profit and weaker-than-expected sales on Thursday, and its shares fell 2.9 percent.
Wal-Mart could not be reached for comment.
NEW FILM DUE IN APRIL

The companies have aired four films so far, with the lowest ratings coming during the latest installment. The Jan. 8 airing of "Change of Plans" on Fox, which aired while a National Football League playoff game was on NBC, drew 3.1 million total viewers.
The first three movies aired on NBC in 2010. The first movie, in April, averaged 7.8 million viewers, the most of any to date.
The duo is wrapping up production on a fifth movie that is set to air on Fox this April, a P&G spokeswoman said.
P&G is not new to entertainment. The company started airing radio soap operas in the 1930s and brought them to television in the 1950s. It has also produced more than 50 television movies and other shows, such as the People's Choice Awards.
NBC is a unit of General Electric Co and is expected to be taken over by cable operator Comcast Corp soon. Fox is owned by News Corp.
(Reporting by Jessica Wohl, editing by Matthew Lewis)

© Thomson Reuters 2022 All rights reserved.