Omega, Longines say US market is on the mend
March 23 - Omega and Longines, two of Swatch Group's biggest brands, on Wednesday said the year had started well and they planned to make further inroads into China by opening dozens of shops.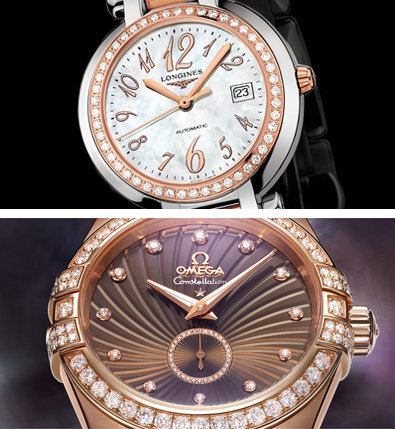 Watches by Longines (top) and Omega (bottom)
The two brands, which together account for more than half of Swatch Group's total revenue, also confirmed the U.S. market was on the mend after having been hit by the 2009 spending slump.
"Recovery in the United States has been confirmed," Longines president Walter von Kaenel told Reuters in an interview at the world's biggest watch and jewellery fair in Basel.
The view contrasted with Patek Philippe which said earlier on Wednesday that trading remained difficult in the United States and it did not expect a return to pre-crisis levels for another year or two.
Appetite for Swiss watches has been recovering since last year, pulled mainly by emerging market demand, with exports rising almost 18 percent in February against 17 percent in January.
"We expect to grow sales this year," Omega chairman Stephen Urquhart said in an interview at the Baselworld fair, declining to give details.
Meanwhile, Longines' von Kaenel said the brand was on track to reach its sales target of 1 billion Swiss francs "in the near future."
Swatch Group Chief Executive Nick Hayek said in an interview this month that Omega sales were approaching 3 billion Swiss francs while Longines was close to 1 billion.
Swatch Group generated sales of 6.4 billion Swiss francs in 2010.
Omega, which is the best-selling luxury watch in China, is planning to open further franchises in the country this year and some 20-30 directly operated stores worldwide, including 15 in the United States, Urquhart said.
At the end of 2010, Omega, whose watches sell for an average price of 5,500 Swiss francs, had 85 directly operated stores.
Longines, which von Kaenel says is the market leader for watches selling for 800-3,000 Swiss francs, said it planned to open about 10 directly operated stores in China this year and some 30 franchises worldwide.
Political turmoil in the Middle East and the nuclear crisis in Japan, two important markets for the luxury goods industry, are a major concern but should not have huge consequences on their revenues, both brand heads said.
None of the brands' Japanese retailers had cancelled appointments at the watch fair due to the earthquake, they said.
However, some of Longines' stores in Egypt, where mass protests resulted in the resignation of the country's long-standing president, were vandalised but the more important markets of Dubai and Saudi Arabia generated strong sales in January and February, von Kaenel said.
By Silke Koltrowitz and Astrid Wendlandt
(Additional reporting by Nathalie Olof-Ors; Editing by David Cowell)
© Thomson Reuters 2023 All rights reserved.