Obey focuses on its women's range and European market
Born out of the American counterculture of the 1990s, Obey established itself in the USA among the street art and skate crowds after its launch in 2001. Founded by artist Shepard Fairey, the Californian brand benefited from the use of t-shirts as a new means of expression.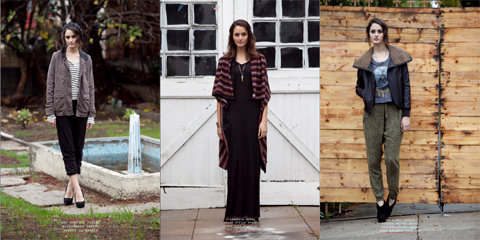 Obey Autumn/Winter 2011 collection
T-shirts have always remained its flagship product, including even an 'Awareness' collection that donates its profits to their favourite causes such as to the Tsunami or breast cancer victims. But now, as it begins to develop, Obey wants to expand its horizon. After recently launching a denim line, the brand has been strengthening its women's range for the last two seasons and now wants to push the expansion further.
"In the United States, a team of 2 to 3 people is going to come assist the stylist in charge of the women's collections", explained Federico Sanchez, manager of Greendog Dist, the official Obey distributor in France, Spain and Portugal. "We can already see a large increase in the collections. We only had 3 types of t-shirts for women two seasons ago, and now we have around 10 in different styles and materials. The brand has also added dresses and jackets to its offering. As for the distribution, the plan is to sell these lines via our own store network, but also in stores dedicated to female customers. For example, we could be complementary to a brand like Sessùn".
But in the European market, the brand needs first of all to establish a reputation. Greendog Dist operates 140 points of sale in France and 120 in Spain and Portugal, going from art galleries in small villages to big specialised retailers and skateshops.
In order to gain visibility, Obey is going to organise many events. Over the course of 2011, the brand is going to host exhibitions in its most popular stores. It has already held events in Marseille and Cannes, displaying pieces especially created by artists for the festival. This mixture of art and fashion seems to have a real potential as, in only two seasons, Greendog Dist claims to have quadrupled its seasonal revenue".
Copyright © 2023 FashionNetwork.com All rights reserved.