Nordstrom to get New York store at last
Nordstrom Inc is set to open its first department store in New York City in 2018, ending a 25-year search for a spot on the luxury world's premiere stage.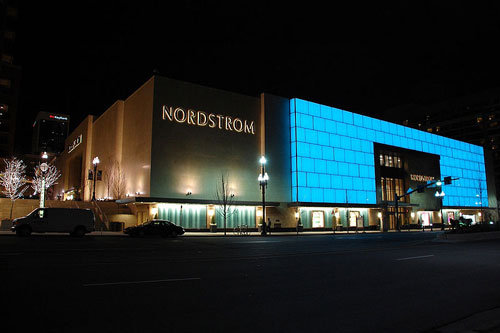 Nordstrom in Salt Lake City / Photo: John Martin K
The Nordstrom store will be 285,000 square feet and occupy seven stories at the base of what will become Manhattan's tallest residential building, to be built on 57th Street, near 7th Avenue. The store is part of a deal with Extell Development Co, the upscale chain announced at a press conference on Thursday.
A full-service New York department store will give the chain exposure to the millions of tourists who flock to Manhattan and have bolstered business at rivals such as Saks Fifth Avenue, Macy's Inc Bloomingdale's, Neiman Marcus Group Inc's Bergdorf Goodman and Tiffany & Co.
"It's our desire to make this the absolute best Nordstrom store there is because we need to do that to be able to compete on this stage," Pete Nordstrom, the chain's president of merchandising, told reporters. He expects the Manhattan store to be the department store chain's highest grossing location.
The Manhattan Nordstrom will be one of the biggest in the chain's fleet, where department stores on average are 177,000 square feet. It will also be located a half mile or so from the cluster of luxury shops on Fifth and Madison Avenues.
The news comes as many of its rivals are spending millions on their New York City flagship stores to woo free-spending tourists. Macy's has begun a $400 million multiyear makeover of its Herald Square store while Saks is revamping its eighth-floor shoe section.
According to New York Mayor Michael Bloomberg, who spoke at the press conference, retail sales in New York City should hit $52 billion, double the level of 10 years ago, led in large part by a surge in tourism.
"It will market Nordstrom as a global brand," said Milton Pedraza, chief executive of Luxury Institute.
Nordstrom will own its space at the Manhattan store, which it expects will create 1,000 jobs. In 2010, Nordstrom opened a popular Rack outlet store in New York's Union Square. Company executives at the event said they are not ruling out a second Manhattan department store at some point.
Nordstrom, which operates 117 department stores and 114 Rack outlet stores, has focused almost all of its store fleet expansion on its Rack stores in recent years.
© Thomson Reuters 2022 All rights reserved.