Nordstrom raises forecasts, speeds up Rack buildout
Upscale department store chain Nordstrom Inc on Thursday raised its profit and sales outlook for the year, helped by sales at its popular lower-priced Rack chain which it plans expand dramatically in the next four years.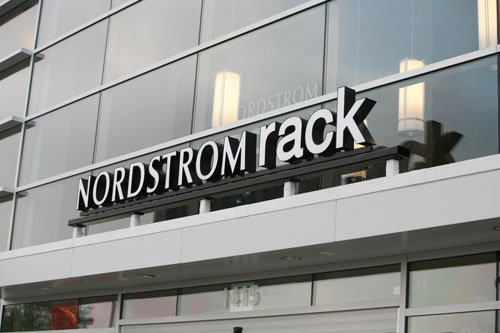 Photo: Nordstrom Rack
Nordstrom now expects same-store sales to rise 6 percent to 7 percent for the fiscal year ending in January, up from an earlier forecast for a rise of 4-6 percent. That includes a high single-digit percentage this quarter.
The Rack has given Nordstrom's revenues a major boost: during the second quarter, same-store sales at Nordstrom's full-service department stores were up a modest 1.1 percent.
But sales rose 7.7 percent at the Rack stores, prompting Nordstrom to say it was picking up the pace of store openings. It is targeting 230 Rack stores by the end of 2016, up from 110 now, which is double the number four years ago.
Last year, the Rack stores accounted for 19.2 percent of retail sales at Nordstrom.
But Nordstrom dismissed the idea that it was expanding the chain too quickly or risked damage Nordstrom's aura of luxury.
"Trust us that we are very sensitive to the Nordstrom brand and the core business, the full line store. To date we think its been very complimentary," Blake Nordstrom, president, said of the Rack chain.
Despite a sluggish economy, luxury chains like Nordstrom, Neiman Marcus Group and Saks Inc have outperformed chains that cater to middle class and lower income shoppers, as affluent consumers have kept spending.
But all three retailers have hedged their bets, largely halting expansion of full-service stores, with Saks even closing a few in the last few years.
Instead the retailers have ramped up their outlet chains, which allow them to reach fashion-conscious shoppers who are not wealthy but still covet the brand.
Nordstrom's net income for the quarter ended on July 28 fell to $156 million, or 75 cents per share, from $175 million, or 80 cents per share, a year earlier. As previously reported, same-store sales were up 4.5 percent.
The company has been investing heavily in strengthening its e-commerce and technology capabilities, considered by analysts as among the best among bricks-and-mortar retailers. For instance, Nordstrom will launch an iPad application this month, and is deploying point of sale mobile devices at all of its Rack stores to speed up the check out process.
It also lifted its forecast for full-year earnings to $3.40 to $3.50 a share from a previous range $3.30-$3.45 per share.
Nordstrom shares were up 0.5 percent to $56.40 in afterhours trading after falling 0.7 percent during the regular session.
© Thomson Reuters 2022 All rights reserved.