Nike sees strong worldwide demand
Sept 22 (Reuters) - Nike Inc (NKE.N) staved off margin pressure in the first quarter with strong revenue and price increases, and said it was confident about its position among peers as it heads toward the winter holidays.
The world's biggest athletic shoe and clothing maker topped Wall Street's profit and sales estimates, and its shares rose more than 5 percent in after-hours trading.
"We continue to see solid growth in footwear and apparel sales, which tells me the growing middle class in developing markets is increasing consumption and that consumers everywhere are ready to buy when they feel good about what they get for their money," Chief Executive Mark Parker said on a conference call with analysts.
Futures orders for the Nike brand, a closely watched measure of demand in coming months, were up 16 percent to total $8.5 billion.
Demand for its swoosh logoed shoes and clothes scheduled for delivery through January were up 27 percent in China and 22 percent in other emerging markets.
"All indications are that the brand is continuing to gain momentum in a world where many retail driven companies are seeing pretty subdued revenue growth," Matt Arnold, consumer discretionary analyst for Edward Jones, said on Thursday.
"(The growth) is very much poised to continue, and with the product innovation they have ... they should be set up to succeed in the holiday period," he said.
Net income for Nike rose 15 percent to $645 million, or $1.36 a share, for its first quarter ended Aug. 31, from $559 million in the year ago period.
Revenue rose 18 percent to $6.08 billion, from $5.18 billion in the year ago period.
Analysts, on average, were expecting earnings of $1.21 a share on revenue of $5.75 billion, according to Thomson Reuters I/B/E/S.
The company, which also owns brands like Converse, Cole Haan, Umbro and Hurley, said revenue rose 35 percent in emerging markets and 15 percent in Greater China. Together these regions contribute about 23 percent of Nike's revenue.
Revenue in North America rose 16 percent.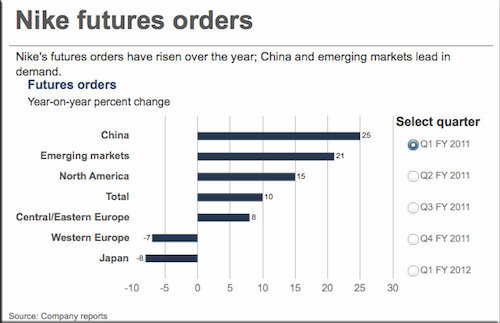 Source: Company Results / Graphic : Reuters; Stephen Culp
Finish Line (FINL.O), the majority of whose merchandise comes from Nike, reported on Thursday that sales rose more than 10 percent for the second quarter. Sales of high margin lightweight shoes are expected to contribute to margin expansions in the next quarter, Finish Line's Chief Financial Officer Ed Wilhelm told Reuters in a telephone interview.
Gross margins at Nike slid by 270 basis points to 44.3 percent during the first quarter from the year ago hurt by higher product costs and discounts.
However, the fall in gross margins was lower than what the company had anticipated as more sales at its high margin company owned stores, and website and price increases helped.
The company previously said it expected its gross margins to fall by at least 300 basis points in the first quarter.
Nike said during its conference call that it expects gross margins for its second quarter to be down about 200 basis points.
The Nike brand has seen no push back from customers as its shoes and clothes grow more expensive, Charlie Denson, president for the Nike brand, said in a conference call with analysts.
Rival Adidas (ADSGn.DE) and Puma (PUMG.DE) also raised prices this year, reacting to higher costs of materials.
Beaverton, Oregon based Nike's shares were trading at $88.55 after hours on Thursday, after closing at $84.18 on the New York Stock Exchange. (Reporting by Nivedita Bhattacharjee in Bangalore; Editing by Anthony Kurian and Carol Bishopric)
© Thomson Reuters 2023 All rights reserved.