Nike earnings beat Street, stands by Tiger Woods
By Alexandria Sage
SAN FRANCISCO (Reuters) - Nike Inc (NKE.N) forecast a return to sales growth this quarter as it expands market share and rides stronger consumer spending, and on Thursday 17 December pledged to stand by Tiger Woods, the face of Nike's golf brand.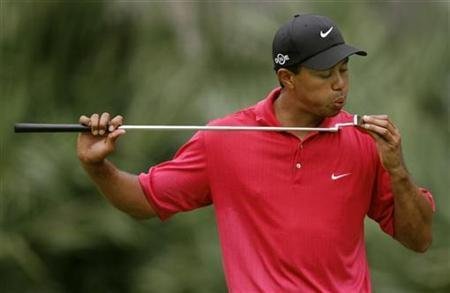 Shares in the world's top athletic apparel and footwear maker jumped over 3 percent after the company beat second-quarter earnings projections, as cost-cutting and recovering orders growth helped offset weak global sales.
Executives sounded a positive note on Thursday (17 December)'s conference call, saying the company continued to steal market share from competitors despite the weak selling environment.
Analysts also were focused on the future of Woods -- a marketing force as the world's highest-paid athlete -- as a Nike endorser.
Investors have been curious to see if Nike will drop the world's top golfer from a pricey sponsorship deal. It was the first question raised during a conference call with analysts.
"The only thing we all know is he's chosen to step away from the game," said Chief Executive Mark Parker, who added that the Nike Golf business had been hurt by the downturn.
"Out of respect for his time and the space he needs, that he asks for, we'll respect that and continue to support Tiger and his family as we look forward to his return."
Asked about sponsorship deals in general, Parker said the company considers both brand opportunity and shareholder value.
"Our relationships we have with athletes, with teams, are really critical in developing the insights we need to fuel product innovation that distinguishes us in the market place and the overall business performance of the company," said Parker. "We continue to consider the economics of the decisions we make."
Nike sales have been under pressure in recent quarters as consumers in the United States and Europe have spent conservatively and mall-based retailers have cut back on orders and carry less inventory.
Globally, Nike has countered that mainly by cutting costs, streamlining operations and reducing marketing. It has slashed 5 percent of its global workforce, or some 1,750 jobs.
Now, orders for goods to be delivered from now until April fell 1 percent on a constant currency basis. That was better than some analysts had expected and an improvement from a 4 percent decline in the first quarter.
KEEPING A LID ON COSTS
Nike said it expects revenue to be up in the mid-single digits on a percentage basis for the next two quarters.
Gross margins are expected to be above last year's levels for the second half of the year, said Chief Financial Officer Don Blair.
Nike Brand President Charlie Denson said the company would bring "unprecedented intensity" to marketing efforts for 2010's World Cup, a major sporting event expected to help spur sales around the globe.
But executives also pointed to recent streamlining efforts within Nike, allowing a more "surgical" approach to strategies and product launches around the globe.
"We are able to move more quickly and decisively, like a small company, and yet still work the levers that only the industry leader can pull," said Parker.
Selling and administrative costs fell 4 percent in the quarter, inventory was down 10 percent, and Nike's tax rate was 23.5 percent versus 24.9 percent in the year-ago period.
Second-quarter net income fell 4 percent to $375 million, or 76 cents per share, from $391 million, or 80 cents per share, a year earlier. That was better than analysts' average forecast of earnings of 71 cents per share, according to Thomson Reuters I/B/E/S.
Revenue slipped 4 percent to $4.4 billion, with sales down in every geographical area except for Nike's emerging markets.
Revenue slid 4 percent in North America, 6 percent in Western Europe and 24 percent in Central and Eastern Europe. In China, a market with double-digit growth last year, sales fell 3 percent.
In emerging markets, which include Brazil and Mexico, revenue rose 8 percent.
Revenues were up 1 percent in the historically fast-growing unit that sells non-Nike-branded goods.
Despite the overall sales weakness, Nike's brands continue to resonate with consumers, said McAdams Wright Ragen analyst Sara Hasan.
"They continue to find product for people at various price points," Hasan said, citing the "strong results" in emerging markets and a better-than-expected gross margin.
Gross margins fell to 44.5 percent from 44.7 percent in the year-ago quarter, caused by higher discounting and foreign exchange impacts.
The Beaverton, Oregon-based company's shares rose 3.3 percent to $65.33 after closing at $63.25 on the New York Stock Exchange.
(Editing by Edwin Chan and Carol Bishopric )
© Thomson Reuters 2022 All rights reserved.