Nicole Farhi to review costs
LONDON (Reuters) - Fashion design house Nicole Farhi aims to manage costs by negotiating with European suppliers and hopes that strong internet trading will offset higher operating costs due to a weaker pound, its managing director said on Sunday 20 September.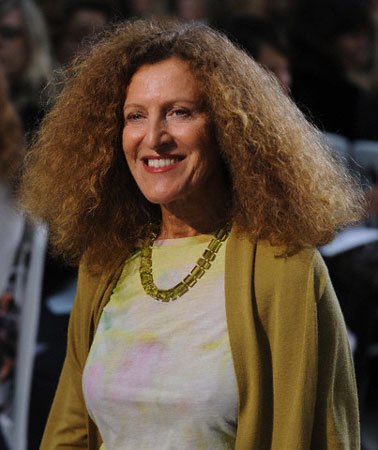 Nicole Farhi
The label's parent company French Connection (FCCN.L) last week posted a pretax loss of 12.8 million pounds ($20.93 million) for the six months to the end of July and said it would close underperforming stores.
"We've obviously had to look at our cost base right across the group, Managing Director Niki Scordi told Reuters after the label's spring/summer 2010 show at the Royal Opera House in Londo.
Asked what cost-cutting measures she was focussing on, Scordi responded: "Lots of negotiating and looking at our suppliers."
French-born Nicole Farhi is known for her colourful, luxurious designs, which are chiefly produced in Italy, but sterling's weakness against the euro has posed a challenge, Scordi said.
"It has affected certainly our prices and our margins," she said. "We've tried to not pass it on to the consumer because it's challenging times." Three months ago the house launched its internet sales site, which was proving particularly popular among shoppers in Italy, France, and Scandinavia, Scordi said.
"We're surprised how well it's done."
She also said Farhi would launch a homeware range with the department store Harrods in October, which could be expanded for wholesale.
(Reporting by Catherine Bosley; Editing by Greg Mahlich)
© Thomson Reuters 2023 All rights reserved.