Next, Kingfisher show ray of hope for retailers
LONDON - Rising profits at home improvements group Kingfisher and fashion chain Next suggest conditions could at last be starting to get better for Britain's retailers after a prolonged squeeze in consumers' disposable incomes.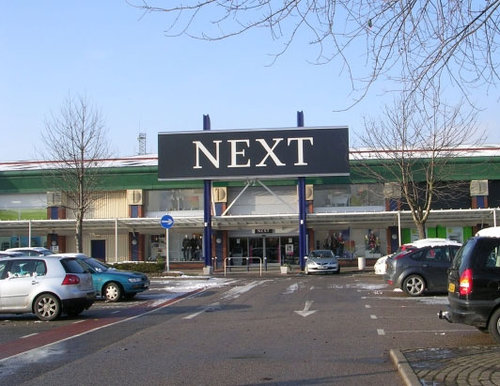 Next at Leeds retail park / Photo: Betty Longbottom
Store groups across Europe have been struggling as spending has been hit by rising food and fuel prices, muted wages growth and government austerity measures, and as shoppers have worried about unemployment and the euro zone debt crisis.
But glimmers of hope are emerging, with inflation easing, unemployment levelling off and consumer confidence picking up. British chains are also looking ahead to summer events like the Olympic Games in London and the Queen's diamond jubilee.
"There is some important good news for the consumer," Next Chief Executive Simon Wolfson said on Thursday after Britain's No.2 fashion retailer posted a 5 percent rise in underlying profit to 570.3 million pounds ($904 million) for the year ended January, near the top end of its forecast range.
"By the third quarter, consumers should see their incomes rising broadly in line with prices - a welcome end to deflation in real earnings," he said, adding the pressure on clothing retailers' costs from higher cotton prices was also easing.
However, Wolfson said he remained cautious, as much of the good news would be offset by persistently high unemployment and difficulty in gaining credit for consumers and businesses alike.
Kingfisher, Europe's biggest home improvements retailer, was also cautious about the short-term economic outlook, but was confident of coping, thanks in part to its drive to boost profit margins by buying more goods centrally, and directly, from cheap manufacturing countries like China.
That drive helped the group, which runs the market-leading B&Q chain in Britain as well as Castorama and Brico Depot stores in France and elsewhere, to deliver a 20 percent rise in underlying profit to 807 million pounds for the year ended January, slightly above analysts' average forecast.
FINDING GROWTH
Both Next and Kingfisher have coped in tough markets by focusing on stronger performing parts of their businesses.
For Next that has been its home shopping Directory business which had benefited from the wider trend towards shopping over the internet and saw an 18 percent rise in profit compared with a small decline at the group's shops.
Kingfisher, meanwhile, has been taking business from building trade suppliers and benefiting from stronger growing foreign markets like France, Turkey and Russia.
British retailers that have not found such niches continue to find life much tougher.
Furniture chain DFS posted a 31 percent drop in first-half underlying earnings on Thursday, while video games retailer Game Group on Wednesday filed a notice to appoint administrators.
Official UK retail sales figures for February at 0930 GMT are expected to show a 0.4 percent fall month-on-month following a strong January, for a 2.5 percent rise year-on-year.
Next shares, which have risen 10 percent over the last three months, were down 1.6 percent at 2,869 pence in early trading.
"We think a lot of the good news is already priced into the stock," said Seymour Pierce analysts, cutting their recommendation to "hold" from "buy".
Kingfisher shares were off 1.3 percent at 296 pence. They have surged 23 percent over the past three months.

Editing by Mike Nesbit
© Thomson Reuters 2023 All rights reserved.