Next and 3 Suisses agree on French-British distribution
The British brand and the French site featuring fashion and decor announced that they have signed a partnership agreement that enables each to expand on the territory of the other. The agreement comes after a test run carried out last season.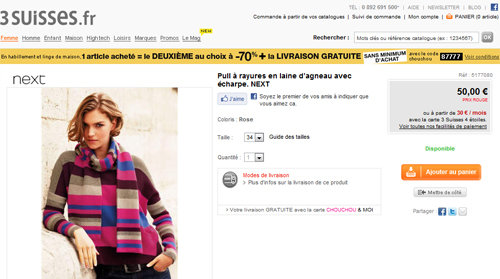 A Next sweater for sale on 3Suisses.fr
A selection of Next Spring-Summer 2012 has been up on the site 3Suisses.fr for two weeks, during which time the portal announced that it had topped 1000 sales. A thousand Next items should eventually be available on the site by June, 2012.
In the mean while, Next's retail portal highlights a "classic French collection conceived in a feminine contemporary style," offering three silhouettes from the Spring-Summer 2010 collection.
The second French site in the world of fashion and design, 3 Suisses boasts 5.2 million unique visitors per month, a site that generates two thirds of its sales. For its part, with over 500 stores in the UK and another 150 in thirty countries, Next lists 3 million active customers on its retail portal.
Copyright © 2022 FashionNetwork.com All rights reserved.