New Look warns of worsening market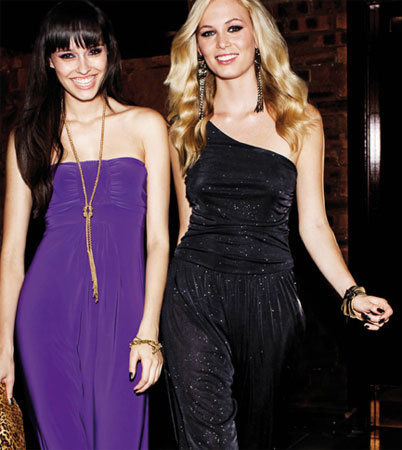 New Look Party Dresses
LONDON, Nov 11 (Reuters) - British budget fashion retailer New Look said market conditions were worsening as soaring cotton prices mean cash-strapped shoppers will be hit by higher clothing prices in the months ahead.
The private equity-owned group, which in February postponed a planned flotation due to volatile financial markets, said on Thursday sales at British stores open over a year dropped 4.5 percent in the 26 weeks to Sept. 25.
Chief Executive Carl McPhail said the fall was exacerbated by a strong performance in the same period last year, when underlying sales jumped 7.5 percent, and about half of the decline was due to disruption following a relocation of the group's buying, merchandise and design teams.
He also said Britain's second-biggest womenswear retailer by value of sales was gaining market share and its internet business was closing the gap on online specialist ASOS (ASOS.L).
However, McPhail warned underlying sales growth was likely to remain subdued into 2011.
Britain's retailers are worried government plans to slash its debts by raising taxes and cutting public spending could hit consumers hard in the coming months.
Clothing chains face an extra challenge from soaring cotton prices, which mean they will need to rise prices at a time when shoppers could find it difficult to pay more.
Discount fashion chain Primark (ABF.L) said on Tuesday higher cotton prices would hit its margins, while mid-market group Next (NXT.L) said last week price rises would be at the top end of its expectations.
McPhail echoed Next boss Simon Wolfson by saying price rises were likely to be towards the top of a 5-8 percent range.
New Look, taken private in 2004 by private equity firms Apax [APAX.UL] and Permira [PERM.UL] with founder Tom Singh, said group revenues rose 3.2 percent to 731.1 million pounds ($1.2 billion), boosted by demand for harem pants and maxi dresses.
International sales, which account for about 23 percent of the total, climbed 2.4 percent on a like-for-like basis.
Adjusted earnings before interest, tax, depreciation and amortisation (EBITDA) edged up to 119.5 million pounds from 117.8 million the same time last year.
New Look, which runs over 1,000 stores in Britain and abroad, said in February it hoped to raise 650 million pounds in a flotation to reduce its 1 billion pounds of borrowings.
But investors were wary of the plan, particularly after department store chain Debenhams (DEB.L) returned to the stock market in 2007 laden with debt and saw its shares plunge.
McPhail told Reuters last month he was cautious about prospects for a new flotation attempt next year.
© Thomson Reuters 2022 All rights reserved.