New Look profit drops, seeks to regain budget image
June 8 - Budget fashion retailer New Look saw annual pretax profit wiped out after trading in its main British market deteriorated in the second half and the group bought too much stock at the higher end of its price range.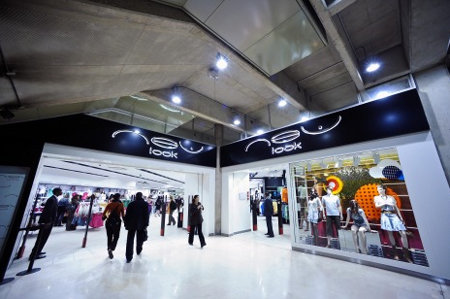 New Look store in Les Halles shoppin centre, Paris (Photo: Pixel Formula)
Executive Chairman Alistair McGeorge, the former boss of budget chain Matalan who was brought in following the abrupt exit of the previous chairman and chief executive in March, said on Wednesday he would focus on buying more lower-priced products and controlling stock more tightly to reduce markdowns.
However, he predicted a tough year ahead, with shoppers hit by rising prices and austerity measures, and retailers facing increased costs of raw materials like cotton.
"I do see it getting any easier this year. I think it's going to be a very, very difficult year for the retail sector," he said on a conference call, adding that while April had been a better month, business got tougher again in May.
New Look, which has twice tried and failed to return to the stock market in recent years, said profit was wiped out at the pretax level after interest payments on the group's 1 billion pounds of net debt, having made 36 million pounds the year before.
Underlying operating profit dropped 40 percent to 98 million pounds in the year ended March 26.
Sales at British stores open at least a year fell 9.7 percent in the second half, following a 4.5 percent decline in the first.
Finance Director Alastair Miller estimated the group lost 15 million pounds of sales due to heavy snow in the run up to Christmas, and this had a knock on effect on profits as stock that might have been sold at full price was cleared at discounted levels in the January sales.
The group also suffered disruption from the relocation of its buying, merchandise and design teams, he said.
New Look, with 1,051 stores across 15 countries, said like-for-like sales at international stores rose 0.5 percent over the full year.
Budget retailers like New Look, Primark and Hennes & Mauritz have been particularly hard hit by the soaring cost of commodities such as cotton because raw materials make up a higher proportion of the price of their products.
Miller said the group had no pressing debt maturities and did not need to refinance its borrowings.

New Look was taken private in 2004 by private equity firms Apax and Permira along with founder Tom Singh. It most recently tried to return to the stock market in February 2010, when its plans were scuppered by market turbulence and questions over its proposed valuation.

(Editing by David Holmes)
© Thomson Reuters 2023 All rights reserved.