Nestle seen seller not buyer of L'Oreal shares
By David Jones
LONDON (Reuters) - Swiss food giant Nestle is more likely to sell its 30 percent stake in the world's biggest cosmetics group L'Oreal rather than attempt a takeover with limited strategic logic.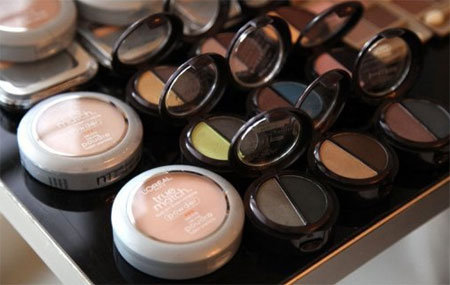 L'Oréal cosmetics
Speculation that Nestle was looking to spend around $20 billion to buy out L'Oreal's biggest shareholder Lilian Bettencourt last week appeared wide of the mark after the family of Europe's richest women stressed its support for the Paris-based group despite family friction.
Bankers and analysts say there is little sense in combining the world's largest food group's brands like Nescafe coffee and KitKat chocolate bars with L'Oreal's Garnier shampoos and Lancome cosmetics.
"We expect Nestle to sell off the L'Oreal stake to investors. We don't see the logic of combining food and cosmetics," said one banker with knowledge of the situation.
The 87-year old Bettencourt is the only child of Eugene Schueller who founded L'Oreal in 1909. She has pledged to leave her 31 percent stake to her daughter and neither has hinted about a sale of the family stake.
Under a shareholders agreement, Nestle cannot acquire more L'Oreal shares until six months after the death of Bettencourt, but has the right of first refusal if the family wants to sell up. Nestle is free to sell its stake anytime.
Many believe the Vevey-based food giant will eventually sell its stake to investors in the market to focus on food and drink as a sale of the whole stake would have a limited number of potential buyers due to competition issues as L'Oreal already has a 15 percent share of the world cosmetics market.
"I think they will eventually sell the stake, from the experience of Unilever it does not really work to bring food and fragrances together. Nestle want to focus on food, that is what it is good at," said a second investment banker.
Consumer goods group Unilever Plc/NV is split almost equally between food such as Knorr soups and home and personal products like Dove soap, but sold its cosmetics units Elizabeth Arden and Calvin Klein to focus on only mass market products that share distribution channels with food.
Around half of L'Oreal's business is in mass market products such as hair, skin and body care under brands such as Garnier and L'Oreal Paris. These may have some distribution synergies with food, but the other half -- with Lancome and Helena Rubinstein luxury cosmetics -- would have little connection.
"In our view, Nestle has shown no interest in the Bettencourt holding, and were Nestle to try to take full control of L'Oreal, it would be paying a dilutive price for few synergies," said analyst Deborah Aitken at broker Bryan Garnier.
Other analysts say one of the reasons Nestle's share multiple is depressed at 16.6 times 2010 forecast earnings is due to concern from investors that it might make a bid for L'Oreal.
Conversely, L'Oreal shares trade at 21.2 times, buoyed by a belief that Nestle might bid.
BRABECK'S ROLE
Nestle's Peter Brabeck said he would look closely at the group's stakes in U.S. eyecare group Alcon and L'Oreal when he stepped down from his chief executive role in April 2008 to focus on being sole chairman. The sale of its final Alcon stake was agreed earlier this year to Novartis.
The sale of Alcon leaves Nestle with a cash pile and has helped fuel talk it might look to buy out the Bettencourt stake, but the Swiss group has favored share buybacks and increased dividends.
Nestle's stake dates back to 1974 when it invested in L'Oreal along with Bettencourt through holding company Gesparal as it diversified out of food following a string of acquisitions including Maggi and Stouffers. A few years later its diversification continued with its purchase of Alcon.
Gesparal was dissolved in 2004 leaving Bettencourt with 31 percent stake and Nestle with 30 percent. A deal preventing either selling their stakes expired in April 2009 when both said they would continue to work together.
The Bettencourt family has stressed its support for L'Oreal despite a recent mother-daughter dispute which saw the daughter take legal proceeding against her mother's photographer friend, Francois-Marie Banier, whom she alleges received money from her mother and took advantage of her weakness.
The daughter, Francoise Bettencourt Meyers, said last week the dispute had no impact on the family's commitment to L'Oreal. She said the idea of the current legal proceeding having the aim of selling the family stake to Nestle was "judicial nonsense."
Nestle had no comment to make on its L'Oreal stake.
(Reporting by David Jones; Editing by Jason Neely)
© Thomson Reuters 2023 All rights reserved.