Mulberry aims to be big in Japan
Oct 4 (Reuters) - Fast-growing British luxury fashion brand Mulberry said it has agreed a distribution deal that will see its products sold in Japanese department stores and flagship shops opened in Tokyo and Osaka.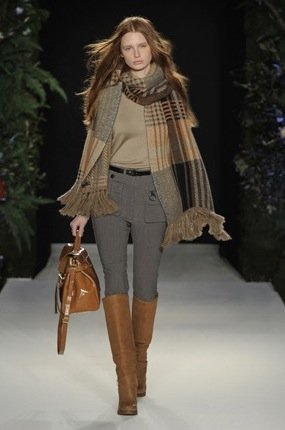 Mulberry - Autumn 2011 / Photo: Mulberry
The firm, best known for its leather handbags priced around 500-900 pounds ($774-$1,393), said on Tuesday it had agreed a deal with a joint venture owned by Club 21 and Mammina, a unit of Japanese department store chain Isetan Mitsukoshi Holdings (IMH) .
The 10-year deal anticipates the opening of multiple department store "shop in shops" within the IMH network as well as new flagship stores in Tokyo and Osaka in due course.
Mulberry said in June it expected overseas sales to overtake those in its home market in two years.
The firm said it had also agreed with Club 21 to extend its existing distribution deal for South East Asia to 2021.
This deal covers the distribution of Mulberry products into China, Singapore, Malaysia, Taiwan, Indonesia, Thailand, the Philippines, Vietnam and Australia.
It will see flagship stores open in Singapore, Hong Kong, Shanghai and Beijing as well as further openings in the other countries.
"The board expects the Club 21 contribution to group sales to increase significantly over the coming years due to new store openings and increasing penetration of the Mulberry brand into these markets," the firm said.
Club 21 generated wholesale sales for the group of 5 million pounds for the year ended March 31 2011.
Club 21 is ultimately controlled by Ong Beng Seng and Christina Ong. They control Challice Limited, which has a 57 percent stake in Mulberry, making it the firm's largest shareholder.
Shares in Mulberry, which have increased nearly fourfold over the last year, closed at 1,395 pence on Monday, valuing the business at about 825 million pounds. ($1 = 0.646 British Pounds) (Reporting by James Davey, Editing by Mark Potter)
© Thomson Reuters 2023 All rights reserved.