Movado fourth quarter loss narrower than expected; backs 2011 view
By Viraj Nair
BANGALORE, April 1 (Reuters) - Watchmaker Movado Group Inc (MOV.N) reported a narrower-than-expected quarterly loss, helped by cost cuts, and reaffirmed its outlook for the current fiscal year.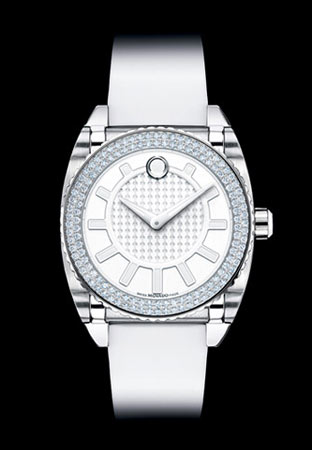 Movado Master - Photo: www.movado.com
On a conference call with analysts, Chief Executive Efraim Grinberg said fiscal 2011 will be a rebuilding year for Movado, and it will increase investments in its brands to drive sales.
Efraim said the company, which distributes watch brands such as Concord, Tommy Hilfiger and Hugo Boss, has received positive feedback for a few products it plans to introduce this year, including in its core Movado brand.
"Movado Bold product has been resonating very well, it's appealing to a younger, more fashionable customer ... they expect to see a rollout to wholesale in the second half," Sterne, Agee & Leach analyst Jennifer Milan told Reuters.
Movado is looking to revamp its product offerings, as the watchmaker tries to chart a return to profitability and reverse the sales declines it faced from reduced discretionary spending.
"We're probably not going to get a good sense whether they can turn this around until the third quarter, which is when, given their wholesale model, we'll start to see their retail partners ramp up and start restocking inventories," Milan said.
Milan, who has a "neutral" rating on the stock, said there are probably going to be some changes to the company's product mix, which will become clearer when Movado discusses its long-term growth plan later this year.
Wall Street Strategies analyst Brian Sozzi, who has a "sell" rating on Movado's stock, was not impressed with the company's current product lines and feels that there is still a lot of work to be done over the next year and a half.
"I think there are fundamental problems going on with the company. The core Movado line has lost considerable brand equity in the market place ... It's been heavily discounted over the past year and a half," he said.
"It's going to be hard for them to reclaim that premium brand positioning, as the market improves."
Movado still sees a loss of 20 cents to 40 cents a share for fiscal 2011. Analysts on average were expecting a loss of 24 cents a share, according to Thomson Reuters I/B/E/S.
For the fourth quarter ended Jan. 31, net loss was $23.6 million, or 96 cents a share, compared with a loss of $22.8 million or 93 cents a share, a year ago.
Excluding items, Movado posted a loss of 28 cents a share, while analysts on average were expecting a loss of 31 cents a share.
Revenue fell 2 percent to $92.2 million. Analysts expected $91.9 million.
The watchmaker cut operating expenses by 13 percent to $65.9 million.
Paramus, New Jersey-based Movado's shares were down 2 percent at $11.09 late morning Thursday 1 April on the New York Stock Exchange. (Reporting by Viraj Nair; Editing by Vinu Pilakkott, Unnikrishnan Nair)
© Thomson Reuters 2022 All rights reserved.