Momentum crucial for US retailers
By Alexandria Sage - Analysis
SAN FRANCISCO (Reuters) - Nimble teen apparel chains that quickly sell through spring and summer goods to allow ample room for denim and other key items this fall will be among the best performers this back-to-school season.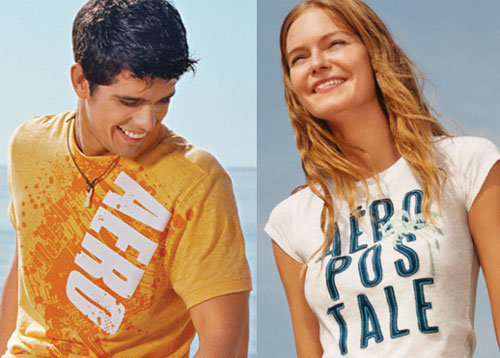 Aeropostale Spring-Summer 2009
Winners in the back-to-school season will be Aeropostale Inc (ARO.N) and possibly even American Eagle Outfitters Inc (AEO.N), experts say.
Both are able quickly to reorder best-selling styles while keeping overall inventories -- and risk -- at a minimum. That inventory-turning momentum will likely help them when students start shopping for new back-to-school apparel.
"I think the momentum is definitely going to be an indicator of how well they do," said retail strategist Monica Tang of global consulting firm Kurt Salmon. "It means they have inventories more in line and they have the cash flow to support their strategy for the fall.
The back-to-school season is a key period for apparel retailers, especially this year as investors look for any signs of an economic recovery. And in advance of the season, investors in U.S. stocks may be lured by bargain share prices during what is expected to be a lackluster summer sales period.
"The 'summer doldrums' provide an opportunity for investors, prior to the core of the back-to-school season when there may be more enthusiasm among investors," wrote B Riley's Jeff Van Sinderen in a recent note on American Eagle.
But for apparel chains on the outs, do not expect overnight miracles. Retailers who failed to capture teen dollars this spring will have an even tougher time convincing them to open their wallets this back-to-school.
"I don't think you can set up for back-to-school in July," said Majestic Research analyst Chandi Neubauer. Momentum needs to build from Easter, she said, so during the summer shopping slump, teens are plotting where they will shop come fall.
That leaves Abercrombie & Fitch Co (ANF.N), which posted a 28 percent drop in same-stores sales in May, in a tough spot.
Abercrombie, once the most popular store in the mall, has seen its fans gravitate to rivals due in part to higher prices. In a similar funk are the retailer's shares, down 59 percent since last year, compared with the 12.6 percent drop at American Eagle and the 11 percent rise at Aeropostale.
Abercrombie also carries the lowest valuation for fiscal 2009. Shares are valued at eight times expected earnings, below the 15 at Aeropostale and the 16.6 at American Eagle.
"Parents are telling kids, 'I can't afford for you to shop at Abercrombie,'" said American Research Group's Britt Beemer.
LEAN AND MEAN
Retailers begin moving back-to-school merchandise into stores in late July, and those with fewer summer items to clear out have a better shot at wowing skeptical buyers with new full-price items, whether denim, dresses or graphic T-shirts.
Pacific Sunwear of California Inc (PSUN.O) expects product margins in its second quarter to be down 50 to 150 basis points due to markdowns of spring and summer merchandise.
"Our goal is to go into fall, frankly, cleaner than last year and to really be prepared for whatever fall business lies ahead," Chief Executive Sally Frame Kasaks said on a recent earnings call. "We see no value in holding on to any goods that haven't sold in the spring/summer season."
American Eagle, whose business appears to be stabilizing with better merchandising and pricing despite negative monthly same-store sales since last May, believes itself nimble enough to reorder key styles that end up selling well.
"This lean and sort of mean position of inventory is enabling us to be flexible and bring in new fashion," said Chief Financial Officer Joan Hilson in a recent analyst call.
Analyst Neubauer sees Aeropostale and American Eagle as back-to-school winners because "they're very good at chasing."
"They can manage a lean inventory and when they see a home run, they can get it into stores quickly," Neubauer said.
The most crucial item will be denim. American Eagle and Pacific Sunwear, among others, are adding to their lines more jeans, which make up the bulk of back-to-school sales.
American Eagle Chief Executive Jim O'Donnell, calling denim the retailer's "number one opportunity," said he did not foresee major promotions of denim during back-to-school.
Teens are willing to pay full-price if denim styling is spot-on, and jeans sales at Pacific Sunwear did not suffer recently after prices rose in some key styles, said Kasaks.
"If the retailers have done well with their denim buys, that could be a big win for them," said analyst Tang.
(Additional reporting by Dhanya Skariachan in New York, editing by Matthew Lewis)
© Thomson Reuters 2023 All rights reserved.