Metro seen seeking retail expert to replace CEO
FRANKFURT - German retailer Metro is likely to look within its own ranks for an industry specialist to replace its outgoing chief executive and make sure the group's key restructuring plan, now entering its final phase, stays on track.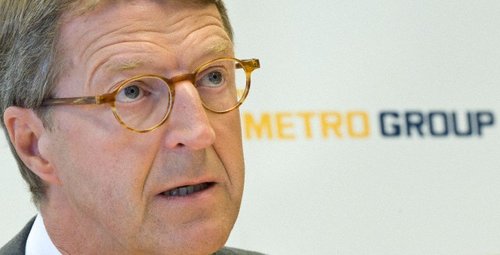 Chairman of Metro, Eckhard Cordes, presents the quarterly figures during a press conference at the company's headquarters in Duesseldorf, Germany, 02 July 2011. The profits decreased by one quarter to 40 million Euro in the second quarter of 2011. Photo: Victoria Bonn-Meuser
Shares in Metro fell on Monday after Eckhard Cordes, a turnaround specialist and former Daimler AG (DAIGn.DE) executive, who has led Metro since November 2007, said he would not seek to renew his contract beyond Oct 2012. One source close to the company said he could leave over the European winter.
Cordes said on Sunday he no longer felt there was the basis of trust needed for him to stay on, after weeks of speculation that he had lost the support of various supervisory board members.
The statement came just three weeks after he had received the backing of the group's two major shareholders, the Haniel and Schmidt-Ruthenbeck families, who together own just over 50 percent of Metro.
"So we are back to square 1 and Haniel is under pressure to find a successor," Unicredit analysts said.
Metro shares, which have already lost almost 40 percent this year on fears of weak consumer spending and a disappointing performance at its MediaMarkt-Saturn consumer electronics chain, were down 5.3 percent at 31.49 euros at 1107 GMT, the biggest faller on the blue-chip Dax index
Analysts voiced concerns that without Cordes, the group's Shape 2012 programme to cut costs and improve profits, might not be realised to its full potential.
"We are concerned at the lack of support given the seemingly strong progress and sensible strategies Metro has undertaken under Cordes' watch," JP Morgan Cazenove analysts wrote in a note.
While investors have applauded Cordes for steering Metro to record profit of 2.4 billion euros ($3.2 billion) in 2010, he has disappointed by not delivering on a promise to sell the group's Kaufhof department store business or Real hypermarkets unit and the group may now have to change this strategy.
"Cordes has somehow manoeuvred himself into a cul-de-sac, and Haniel does not seem to have the confidence in him being the best available person for a U-turn," Commerzbank analyst Juergen Elfers said.
Trade union Verdi said the departure of Cordes offered a chance for a new strategy. Cordes had not won himself any friends with the company's labour representatives by cutting jobs and announcing plans to sell the two units.
Metro and top shareholder Haniel could now look for a retail specialist to succeed Cordes.
"We suspect investors would favour a candidate with strong retail credentials to provide comfort on the repositioning efforts at MediaMarkt-Saturn and with deal-making experience to drive the disposal of Kaufhof and potentially Real (in part or in whole)," Bernstein analysts said.
Internal candidates who could move up to the top job include Finance Director Olaf Koch or Joel Saveuse, head of the Cash & Carry and Real hypermarkets division.
Another name cited last month as a possible successor to Cordes was Thomas Huebner, formerly CEO of the cash & carry international unit, who was in June appointed by French retailer Carrefour to head its operations in Spain, Italy, Belgium, Greece, Poland and Romania.
"Saveuse would be our favorite as he did a good job at Real and could thus bring the momentum needed at Metro. Koch would be our second favorite as this would be a bit of the same as Cordes," Unicredit analysts said. ($1 = 0.741 Euros) (Reporting by Victoria Bryan and Matthias Inverardi; Editing by Helen Massy-Beresford)
© Thomson Reuters 2023 All rights reserved.