Metro says profit goal harder as Europe teeters
DUESSELDORF - Metro AG (MEOG.DE), the world's No.4 retailer, said Europe's debt crisis and weakening economic growth are casting doubt on its goal of 10 percent earnings growth this year.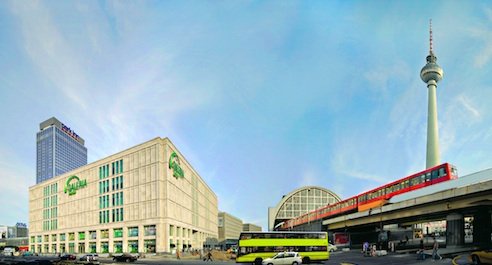 Galeria Kaufhof, Alexanderplatz in Berlin
The German group, which runs cash-and-carry stores, hypermarkets, electrical goods and department stores, said on Thursday it was stepping up spending on its restructuring program as it looks for more ways to cut costs and improve productivity to offset tough trading conditions.
But it also said it was confident of at least meeting analysts' forecasts for 5 percent profit growth this year, helped by higher than normal gains from property sales and following a solid third quarter.
Most analysts described that as reassuring in the wake of a string of profit downgrades from Europe's biggest retailer Carrefour (CARR.PA) and a warning from Britain's Tesco (TSCO.L) that second-half UK profits would be flat.
At 0900 GMT Metro's shares were up 0.9 percent at 33.825 euros, beating a 0.6 percent fall on the STOXX Europe 600 retail index .SXRP.
But Credit Suisse analysts warned the stock, which has slumped 38 percent this year, could remain under pressure until the group names a new chief executive.
Metro, which runs over 2,100 outlets in 33 countries, did not give an update on when it might name a successor to CEO Eckhard Cordes, who said last month he would not seek to extend a contract which runs out in October 2012.
Cordes told analysts he would stay as long as necessary and that finance chief Olaf Koch had extended his contract by a further three years.
A string of European retailers have cut profit forecasts in recent months as shoppers' disposable incomes have been squeezed by rising prices, subdued wages growth and government austerity measures. The euro zone debt crisis has also hammered consumers' confidence about the future.
Metro has particularly suffered from plunging sales at its Media-Markt Saturn (MMS) electricals business as shoppers cut back spending on discretionary goods.
CHRISTMAS IS KEY

"The world has changed since summer... Many of our customers are more anxious and more cash-strapped than before, confidence is eroding," Cordes said.
"But this does not mean we cannot achieve around 10 percent growth. We are confident this Christmas will be much better than last year," he said, pointing out that last year's festive season was disrupted by heavy snowfall.
Metro has tried to fight tough conditions by extending its Shape 2012 cost-cutting program and belatedly driving its businesses, particularly MMS, online.
Third-quarter earnings before interest, tax and one-off items jumped 38 percent to 614 million euros, beating analysts' average forecast of 593 million and helped by property profits.
Sales, however, fell 2 percent to 15.98 billion euros, just missing expectations. That included a 5.1 percent drop in sales from MMS stores open over a year, as well as a 6.7 percent drop in sales at Kaufhof department stores on the same basis.
Metro has long been looking to sell Kaufhof, and possibly also its Real hypermarkets, to focus on its cash and carries and MMS stores which analysts think have greater growth potential, particularly in emerging markets.
Cordes confirmed the group was in early-stage talks with potential bidders for Kaufhof, including a property firm part-owned by a Greek shipping magnate and the owner of rival German stores group Karstadt, which Silvia Quandt analysts said could raise hopes of a bidding war.
Metro said it expected to incur 250 million euros of one-off costs this year linked to Shape 2012 as it looks to extend the program, compared with previous guidance of 100 million.
"We see a need to accelerate some of the productivity measures and we have further ideas that will now be introduced and implemented," Cordes said.
($1=0.725 euros)
By Victoria Bryan
(Additional reporting by Mark Potter; Editing by Mike Nesbit and Andrew Callus)
© Thomson Reuters 2023 All rights reserved.