Metro halts sale of Kaufhof stores chain
GENEVA - German group Metro , the world's fourth-biggest retailer, has suspended the sale of its Kaufhof department stores, valued at 2-3 billion euros ($2.5-3.8 billion), saying potential buyers were struggling to raise funds.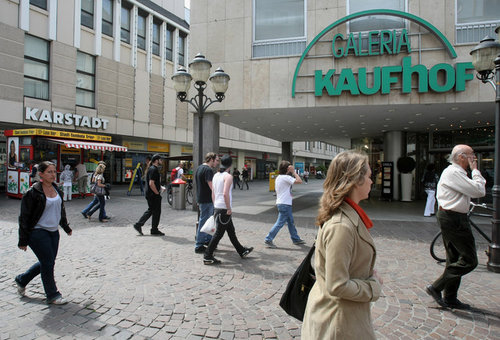 Photographer: Ralph Orlowski/Getty Images
"We have always stressed that a sale must reflect the potential of Galeria Kaufhof. Currently, the earnings potential can be better tapped by us than by a sale", chief executive Olaf Koch said on Tuesday.
Those interested in Kaufhof were Austrian property investor Rene Benko, bidding via his investment vehicle Signa, and Nicolas Berggruen, the plane-hopping investor known as the 'homeless billionaire' and who also owns rival chain Karstadt.
The move came after financing conditions in the retail sector became tougher, prompting relief among investors that Metro did not try to push through a sale at any price. "The present situation on the capital markets does not offer suitable conditions for such an important transaction," Koch said.
"We see it as positive that Metro can wait for a better environment and is counting on a good result rather than short-term sale proceeds," LBBW analyst Barbara Ambrus said.
Metro shares were up 3.8 percent at 28.31 euros by 1224 GMT, making it one of the top 10 gainers among European blue-chip stocks.
Retailers have been suffering as rising prices, muted wage growth and austerity measures resulting from the euro zone debt crisis, squeeze disposable incomes across much of Europe.
Kesa Electricals late last year paid a 50 million pound ($77 million) dowry to a private equity firm to take the loss-making Comet business off its hands, just as the list of retail casualties in Britain grows.
In Germany, the family of Douglas CEO Henning Kreke has approached financial investors to help it take the German fragrance-to-jewellery retailer private.
DEPARTMENT STORE WOES
Metro started informal talks with investors more than six months ago, under former CEO Eckhard Cordes, over both Kaufhof and its Real chain of hypermarkets.
With few synergies between Metro's businesses, the plan was to sell off these assets and focus on its cash and carry and electrical goods operations before eventually, perhaps, spinning off the latter as well.
Talks dragged on, partly because of a probe into possible money-laundering by Signa and partly due to concern over competition between Berggruen's Karstadt and Kaufhof.
A banker who advises European retail companies said financing the purchase of a department store business was challenging because the sector has performed poorly historically compared with speciality retailers, which focus on a narrower product range.
Metro said it was not changing its portfolio strategy, leaving the door open for a sale of Kaufhof at a later date, which also left the bidders sounding hopeful.
"Postponed is not abandoned," a spokesman for Benko cited the investor as saying, while a spokesman for Berggruen said: "We are still convinced by the concept of department stores in Germany."
Analysts expected a sale of Kaufhof could result in a special dividend, which would be especially welcome for top shareholder Haniel after Moody's in November cut its rating outlook for the family-owned investment firm.
Underlining the tough retail environment, Metro also said fourth-quarter sales at Kaufhof dropped 4.6 percent, while overall group sales fell 1.3 percent to 19.5 billion euros ($24.7 billion). That compared with a forecast for 19.3 billion euros in a Reuters poll.
"Despite a good finish, the Christmas business was disappointing overall," Koch said.
Metro is exposed to discretionary spending through its consumer electronics chain MediaMarkt-Saturn, while unseasonably warm weather has slowed sales of winter clothing at Kaufhof.
Kaufhof sales have been virtually flat since 2005, with the German retail market offering few opportunities for growth.
Metro issued a profit warning in early December due to weak Christmas trading. On Tuesday, it reiterated guidance for 2011 earnings to fall slightly below the 2.4 billion euros it reported for 2010.
Last week, British group Tesco, the world's third-biggest retailer, issued its first profit warning in living memory.
Also on Tuesday, Dixons Retail, Europe's No. 2 electrical goods retailer, said sales declines accelerated over Christmas. ($1 = 0.7891 euro = 0.6524 pound) (Additional reporting by Matthias Inverardi, Mark Potter, Victoria Howley and Daniela Pegna; Writing by Victoria Bryan and Maria Sheahan; Editing by Dan Lalor)
© Thomson Reuters 2023 All rights reserved.