Metro chief downbeat on chance of Karstadt deals
FRANKFURT (Reuters) - The chances are dwindling of German retailer Metro (MEOG.DE) buying parts of insolvent rival Arcandor's (AROG.DE) department store business Karstadt, chief executive Eckhard Cordes said in a magazine report due for publication on January 18.
"At the moment, chances for a takeover of Karstadt stores are very small," Cordes was quoted as saying in a pre-release of extracts from an interview with weekly Wirtschaftswoche.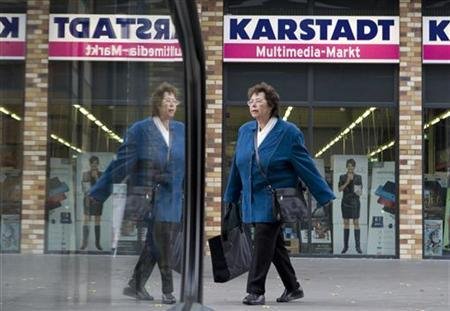 "Metro in no case will make a bid for the entire Karstadt (store business)," he said.
Metro had offered to take over parts of Karstadt to merge it with its own Kaufhof department stores in the run-up to Arcandor's collapse last June but the deal failed as Arcandor wanted to keep the group together as a whole.
Cordes reiterated that if only the entire group was subject to sales talks, these would be "a waste of time for both sides."
In the same interview he said prospects for Metro in 2010 looked more promising than in the previous year, after Metro on Tuesday 12 January reported sales losses of 3.6 percent to 65.5 billion euros ($94.50 billion), below estimates. ID:LDE6090HC
Cordes told Wirtschaftswoche that sales and operating earnings would look more favorable if they were currency adjusted.
"You can tell that we expect a better development in 2010 by the fact that we raise our investment volumes and plan significantly more store openings," Cordes said, but added the business environment remained challenging.
European retailers generally have demonstrated only muted confidence for 2010 as signs of a tentative economic recovery have yet to boost consumer spending and there are fears over high unemployment and low wage growth.
Metro which still makes the majority of its sales in its home market in Germany would continue to expand aggressively in eastern Europe, Cordes said.
He left open whether Metro would seek to sell its supermarket chain Real. He also said there would be no advantage in floating Metro electrical goods untis Media Markt and Saturn.
(Reporting by Vera Eckert; editing by Patrick Graham)
© Thomson Reuters 2023 All rights reserved.