Metro and Arcandor get closer to store alliance
FRANKFURT, May 21 (Reuters) - German retailers Metro (MEOG.DE) and its stricken rival Arcandor (AROG.DE) moved one step closer to a tie-up of its department store chains after a top-level meeting on Thursday 21 May.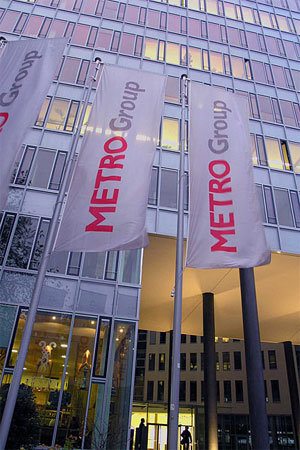 Metro Group Headquarters, Dusseldorf
A department store alliance could be a sensible path for future of German department stores, the companies said in a joint statement after a meeting of their chief executives.
Such cooperation would, however, need a sustainable and economically viable concept, they said and arranged to meet again without disclosing further details.
Time is running out for debt-laden Arcandor, which needs to renew credit lines worth up to 710 million euros by June 12 or else may not survive.
A spokesman for Arcandor reaffirmed that loan guarantees from the German government were essential to secure the group's long-term financing and that a department store alliance alone would not solve its problems.
But the world's fourth-largest retailer Metro is against state aid for its rival, a step it said would curb competition.
It has proposed to merge its department store chain Kaufhof with Arcandor's Karstadt instead, and Metro's CEO Eckhard Cordes has already presented his plan to several government officials.
Metro's plan would see Metro and the owners of the Karstadt stores' real estate each holding just under 50 percent in a new "German Department Store Inc", curtailing Arcandor's influence.
But a source close to the matter said on Thursday 21 May that the concept was not set in stone and would leave the possibility for Arcandor to also take a stake.
Arcandor shares were up 3.7 percent at 2.239 euros by 1340 GMT, while Metro shares were up 0.7 percent at 35.18 euros, easily outperforming a 2.4 percent drop in Germany's blue-chip DAX index .GDAXI.
(Reporting by Eva Kuehnen)
© Thomson Reuters 2023 All rights reserved.