Marithé+François Girbaud ready to sell their company
Thanks to the personalities of its founders, Marithé+François Girbaud is a company not quite like any other. This has probably created some difficulties for the company in establishing itself firmly while enjoying, as it did, a constant presence among denim brands and creators. The companies is now looking into the future and into acquiring over time the means for its development.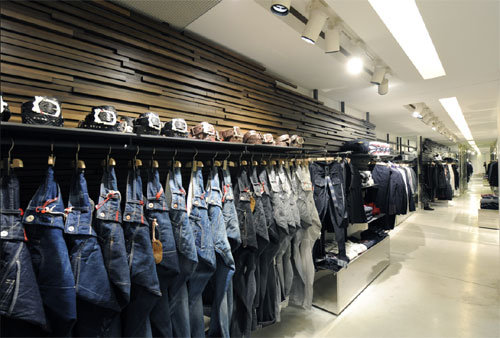 The Girbaud store between Etienne Marcel street and rue Montmartre
in Paris

Thus, on Figaro last Friday, November 18, Marithé et François Girbaud made ​​public their desire to open the company's share capital to potential partners. "We gave a mandate to the Rothschild bank four months ago to open the capital of our family business," said Olivier Bachellerie, president of Marithé+François Girbaud (Marithe's son and François' stepson). This is to be achieved by the end of the first half of 2012.

According to communications director, Muriel Lamarzelle, the founders wanted not so much a business partner as they did a financial partner. But everything is still open. While economic times might not seem conducive to this type endeavor, they may just work in favor of Marithé+François Girbaud. 

Likewise, the family shareholders have not commented on the percentage of equity participation in question which, according to the clothing company, may be the majority. Concerning the amount, an evaluation is underway by Ernst & Young who are also working on a simplification of the legal structures. The company announced a consolidated revenue of 100 million euros, and 200 million euros in retail with 30% in France alone. It also announced intended distribution through more than one hundred eponymous stores worldwide as well as fifty sales corners and 2,000 multibrand stores.

As to its history, outlets had opened...and closed. This is a page that Marithé and François Girbaud hope to be turning with their recent opening in the historic store on rue Etienne Marcel in Paris with a new concept dubbed
Montmarcel
. Since then, the store in Montpellier has been renovated (in August). Units have also opened in Biarritz and Toulouse. Beginning in December a store in Stuttgart and a corner in BHV in Beirut Jnah are also slated to open. More opening plans are confirmed for Amiens, Grenoble, and Xian and Hangzhou in China, where the brand has opened five units since 2008. The objective for China is to open 30 stores within the next three years. This with the help of a partner, Rainbow, in a joint venture where, according to Olivier Bachellerie, "the French company holds 40% stake." Ultimately, it hopes to double or even triple retail sales.
Copyright © 2023 FashionNetwork.com All rights reserved.