Mario Testino brings fashion photography to Peru homeland
Fashion photographer Mario Testino is trying to lend some chic cache to his Peru homeland after 30 years abroad by opening a cultural centre filled with his intimate celebrity portraiture.

Daring photos of stars like model Kate Moss, his top muse, are featured at the Mario Testino Association (MATE) inaugural exhibit, "All or Nothing," described as "a trip from haute couture to nudity."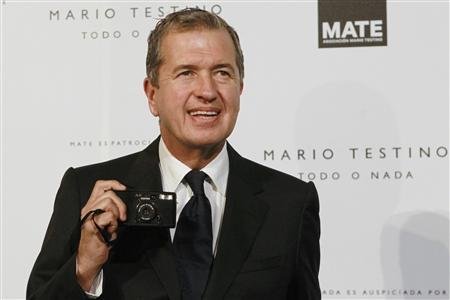 Photo By ENRIQUE CASTRO-MENDIVIL/Reuters
The Peruvian native has photographed most of the world's fashionable, rich and famous - from Britain's royal family to supermodel Gisele Bundchen and Madonna. He has been based in London for most of his adult life.
Testino, who worked as a waiter and dyed his hair pink to get noticed when first starting in photography, is now a celebrity in his own right. The new arts centre opened Thursday and brings international flair to Lima's bohemian Barranco neighbourhood.
"I hope MATE becomes a place where people can come to see my work as well as other works... to help promote culture and show the world what Peruvian art is," Testino told Reuters.
Lima, long overshadowed on the arts and culture map by sexier South American cities like Buenos Aires and Rio de Janeiro, is starting to win over global fans with its unique Andean flavour and laid-back beach vibe.
"When I left here it was a bit difficult for me to be confident in my nationality. Everything successful was based on what the Americans and the French were doing," Testino said. "It's very important for young Peruvians to see that they must use what they have to move forward."
Testino dabbled in economics and law studies in Peru and received a master's degree in international relations from the University of San Diego before moving to London and rising to international fame crafting images of fashion models.
Despite working with some of the world's best-known starlets, Testino says he never lost touch with his homeland.
"Fashion is a means of expression that everyone has from the moment they get up in the morning. It's not limited to people who work in the industry," he said.
Peru has an important photography tradition dating back to the early 1900s, when Martin Chambi documented Andean life with images from the south-central region of Cusco, Testino said. A style unique to Lima has developed more recently, he said.
Testino's own personality-driven work appears to take artistic inspiration from people rather than places.
But he said he is very much a part of a national artistic movement. Testino edited "Lima, Peru," a collection of photos by local artists and photographers that was published in 2007.
"I realized that many of the photographers shared my vision in terms of colour and composition and mixing the elegant with the kitsch, that is very personal to this country and I believe I am part of this aesthetic movement," he said.
© Thomson Reuters 2023 All rights reserved.