Made in France: professionals remain cautious
The Parisian trade show has just registered a 3% increase in attendance for its last edition, which took place on March 30th and 31st. The exhibitors questioned appeared on the whole to be satisfied with the event, although a certain anxiety still lingered in the air in regards to the future of the "French savoir-faire (know-how)". Amongst the visitors in the Bourse de Commerce, a building on Louvre Street in Paris where the fair was held, 26% had come in search of new toll manufacturers, while 12% wanted to meet their manufacturers, said the organiser Eurovet.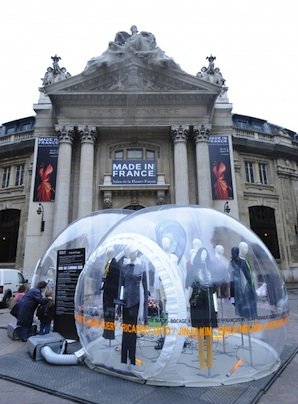 Tech & Design stand outside the Bourse du Commerce building (photo by Pixel Formula)
Professionals attending the show received a visit from French politician Ségolène Royal, who once again came to promote manufacturers from the French town of Cholet, as well as a visit from the Minister of Industry Eric besson, who expressed his wariness in regards to the idea of a possible "Made in France" label. As for the visitors, the highlight of the day came from the bullet-proof umbrellas ordered by the Elysée Palace.
On average, exhibitors said to be satisfied with the overall presentation of the trade show. "The order book for this season seems to be filling up and some are already talking about a 5 to 10 % rise in production", Eurovet remarks. Many are thus evoking a gradual end of the financial crisis, pointing out a noticeable increase in orders from Asia towards Europe. But manufacturers claim to remain cautious, especially after the recent earthquake and nuclear disaster in Japan, which could have a significant impact on sales in the country, currently ranked as one of the biggest luxury markets in the world.
Among the most important brands present at Made In France, organisers mentioned the names of Agnès B, Azzaro, Balmain, Balenciaga, Carven, Chanel, Chloe, Lacoste, Lefranc Ferrant, Dior, Hermès, Jean Paul Gaultier, Lanvin, Lagerfeld, Kenzo, Vuitton, Mugler, Nina Ricci, Paco Rabanne, Sonia Rykiel and Yves Saint Laurent.
Copyright © 2023 FashionNetwork.com All rights reserved.