Macy's, Saks see sales gains as shoppers trade up
Department store chains Macy's Inc (M.N) and Saks Inc (SKS.N) both expect sales gains this year, helped by improving incomes for both the middle-class and well-to-do who shopped a little more during the holiday season.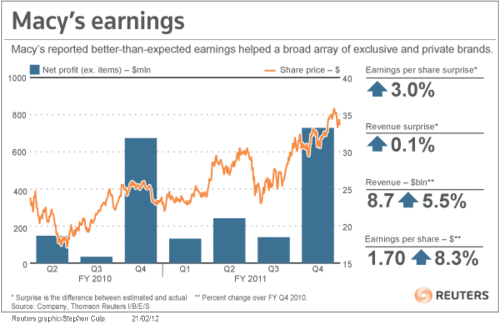 Chart: Reuters
Macy's, a staple destination for the middle-class shopper, benefited from a broad array of exclusive and private brands that led to a higher profit in the holiday quarter, while luxury department store Saks Inc sold more at full price and was also helped by its focus on private-label brands.
The results for Macy's and Saks contrasted with those of those of Wal-Mart Stores Inc (WMT.N), which had focused on lowering prices to bring in shoppers looking to stretch their dollars, a strategy that cut into profit margins and hurt earnings.
Macy's has been helped by middle-class shoppers' improving finances, as its holiday sales gains outpaced those of lower-end rivals Kohl's Corp (KSS.N) and J.C. Penney Co Inc (JCP.N).
Saks shares were up 3.3 percent in afternoon New York Stock Exchange trading, while Macy's was 1.8 percent higher. Wal-Mart, meanwhile, was down 4 percent.
"We managed our inventory, reduced our promotional activity and generated more full-price selling," Saks Chief Executive Stephen Sadove said on a conference call with analysts.
Saks has been one of the bigger beneficiaries of a rebound in luxury spending, fueled by a stronger stock market and tourism to the United States.
The company expects sales at stores open at least a year to rise 5 percent to 7 percent this fiscal year.
Macy's said it expected same-store sales to rise about 3.5 percent and forecast earnings of $3.25 to $3.30 a share, compared with an average Wall Street estimate of $3.26, according to Thomson Reuters I/B/E/S.
"The company has found a good balance between driving the top line and gross margin dollars," Nomura analyst Paul Lejuez wrote in a note to clients.
The analyst also said he expected Macy's to benefit from changes occurring at Penney, where he expects comparable sales to fall at a mid-to-high single-digit percentage rate in the first half of 2012.
Last month, Penney outlined plans to redo its pricing strategies to cut back on massive discounts after they failed to bring in customers.
Sales at Macy's rose 5.5 percent to $8.74 billion, and Chief Financial Officer Karen Hoguet said they exceeded the company's expectations.
Macy's, which operates 810 namesake stores, has also benefited from luxury's continued rebound at its Bloomingdale's chain.
"They still have runway for operational improvements," said Morningstar analyst Paul Swinand. "With same-store sales increases lifting profits, the stock could rise some more."
(Reporting By Nivedita Bhattacharjee in Chicago and Phil Wahba in New York; Editing by John Wallace, Tim Dobbyn and Lisa Von Ahn)
© Thomson Reuters 2022 All rights reserved.