M&S faces down protest over executive pay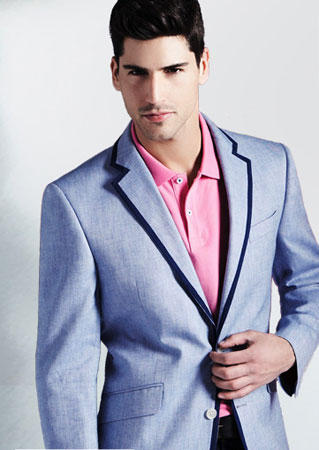 M&S Autograph collection 2010
LONDON, July 14 (Reuters) - British retailer Marks & Spencer (MKS.L) comfortably saw off protests at its annual shareholder meeting over the 15-million-pound ($22.8 million) pay package awarded to new chief executive Marc Bolland.
Britain's biggest clothing retailer, which also sells homewares and food, said on Wednesday its executive pay report was endorsed by 83.8 percent of voting shareholders, with 7.9 percent opposing and 8.3 percent abstaining.
However, several individual shareholders expressed outrage at Bolland's pay deal, variously describing it as "obscene" and "asking for trouble."
"The only difference between you and me is I still need to do the lottery," one said to the Dutchman who was poached from Wm Morrison Supermarkets (MRW.L) in November.
Executive Chairman Stuart Rose, the subject of investor rebellions at the two previous annual shareholder meetings, repeatedly stressed that Bolland would only get the bulk of his pay award if he met stretching performance targets.
"If the company does well, Marc will do well," he said.
Britain's shareholders have been taking a more robust line on management pay during the economic downturn, although they have rarely forced through any changes.
Earlier this month, some 47 percent of shareholders in Tesco (TSCO.L), the UK's biggest retailer, either voted against or abstained in a poll on executive pay.
Grocer J Sainsbury (SBRY.L), which also held its annual shareholder meeting on Wednesday, had an easier ride, despite some individuals expressing concerns over the 8-million-pound pay package of CEO Justin King.
TRIBUTES FOR ROSE
Rose has had a rocky relationship with institutional shareholders since 2008, when he combined the roles of chairman and CEO against corporate governance guidelines.
But he has remained hugely popular with M&S's army of small shareholders, who packed the meeting at the Royal Festival Hall to bid farewell to the man credited with seeing off billionaire Philip Green's audacious takeover attempt in 2004.
Rose, who will become non-executive chairman on July 31 and stand down as chairman by the end of March, received several tributes during the meeting, including one from fashion icon and M&S model Twiggy.
M&S is battling to recover from a bruising recession, when it was hit by competition from discount clothing chains like Primark and was slow to adapt its upmarket food business.
It has enjoyed greater success recently with new clothing line "Indigo", its cheaper "Wise Buys" range in food and a re-vamped internet offer.
Bolland is scheduled to outline his plans for the business alongside interim results in November.
"I am a person of evolution not revolution ... Yes there will be change but it will be building on the things that are good," he told the meeting, adding that customer focus "will be one of my key things."
Rose said there were signs British consumer confidence had started to improve since a June 22 budget which announced tax hikes and public spending cuts to rein in government borrowing.
However, many retailers and analysts remain cautious on the outlook for consumer spending and a survey earlier on Wednesday showed consumer morale fell to its lowest level for a year in June.
M&S shares closed down 1.3 percent at 349.2 pence, lagging a 0.3 percent fall in the UK's benchmark FTSE-100 index.
(Editing by Hans Peters) ($1=.6580 Pound)
© Thomson Reuters 2022 All rights reserved.