LVMH's Arnault offers olive branch to Hermes
Feb 4 - The head of the world's No.1 luxury group LVMH made an offer of co-operation on Friday to its smaller rival Hermes, which is smarting over the group's taking a substantial minority shareholding.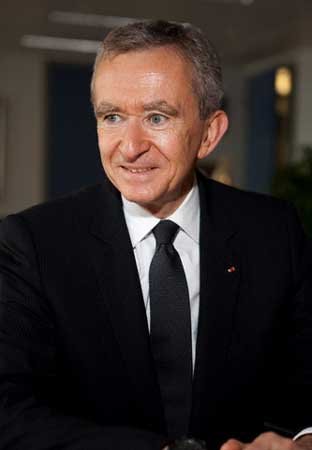 Bernard Arnault, president of LVMH
LVMH, considered an unwelcome menace by Hermes family owners and management, shocked the luxury sector last autumn by announcing it had built up a 17 percent stake in Hermes, which it later lifted to 20 percent.
In an interview with French weekly Challenges published on Thursday, Hermes Chief Executive Patrick Thomas said LVMH could be a shareholder of Hermes "but 20 percent and more, it is too much".
LVMH Chief Executive Bernard Arnault struck a conciliatory note on Friday, arguing LVMH was best positioned to ensure the long-term survival of Hermes's culture and business.
"We can bring them (Hermes) a number of advantages both strategically and operationally without anything in return other than our presence as a shareholder," Arnault said at the group's annual results presentation.
His comments came after LVMH posted forecast-beating fourth-quarter sales on the back of strong Christmas trading and demand from markets such as China.
Arnault said LVMH had not bought more Hermes shares recently and stressed the group planned to be a friendly, not an activist shareholder.
"We are a pacifist shareholder, which does not mean that we will be a passive shareholder," Arnault said.
"We can establish, if conditions improve, constructive relations with the family and management (of Hermes)."
Arnault said he understood Hermes's surprise when it found out LVMH had become a shareholder, saying that "we, ourselves were surprised to find ourselves shareholders of this company (Hermes)."
Arnault said it was bankers who offered the group complicated derivatives called equity swaps, of which he said "I don't understand anything".
Ultimately, the derivatives were transformed into Hermes shares.
"These were a bit tongue-and-cheek comments," Luca Solca, luxury analyst at Bernstein, said of Arnault's remarks.
LVMH had built up its Hermes stake from 2008 partly through derivatives, which allowed it to avoid having to declare the size of its holding to market regulators.
(Reporting by Astrid Wendlandt; Editing by Will Waterman)
© Thomson Reuters 2023 All rights reserved.