LVMH's Arnault eyes 300 mln stg Bond St stores
LONDON - France's richest man and LVMH's Chief Executive, Bernard Arnault, is in talks to buy three trophy stores on London's most expensive shopping street for 300 million pounds ($470 million), a source said.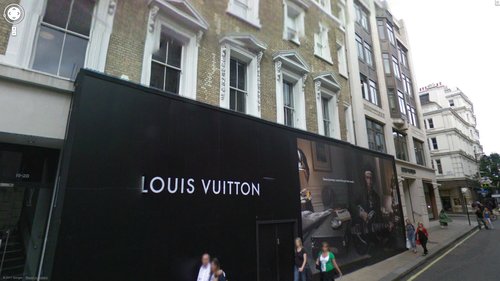 17-20 New Bond Street / Photo: GoogleStreetView
The shops include French luxury goods company LVMH's Louis Vuitton flagship store at 17-20 New Bond Street, plus two other stores let to American leather goods retailer Coach and luxury stationer Smythson, the source, who is familiar with the matter, told Reuters.
The stores on New Bond Street are being sold by Ireland's National Asset Management Agency (NAMA). The Irish state-run "bad bank" seized control of the shops in June after former owner, Irish developer David Daly, failed to meet a debt repayment deadline.
NAMA and Savills, which advised Daly, declined to comment. LVMH was not immediately available for comment.
Property yields on London's top shopping streets have tumbled to record lows in the past year on the back of strong demand from investors seeking safe havens for their cash.
Bond Street, home to numerous luxury brands such as Chanel and Mulberry, is the UK's most expensive street for retail rents and took second place in a 2011 Cushman and Wakefield survey of Europe's priciest shopping streets.
The Cartier store at 40-41 Old Bond Street was sold for 18 million pounds in July, reflecting a yield of 2.8 percent. A Rolex store under the luxury residential block One Hyde Park, a development managed by Candy & Candy, was sold for 13 million pounds in August, reflecting a 2.91 percent yield.
Arnault's interest in the Bond Street stores was indicative of an ongoing trend of successful international retailers buying their own stores, said Colliers International's Head of National Investment, Andre James.
"They control their own property, can refurbish without the landlord's consent and are not subject to big hikes in rent reviews," he said, highlighting Swedish retailer Hennes & Mauritz's 200 million pounds purchase of one of its stores' Regent Street building last year.
News of the deal was first reported in The Times newspaper. ($1 = 0.6380 British pounds) (Reporting by Brenda Goh; Editing by Andrew Callus and Andrew Macdonald)
© Thomson Reuters 2023 All rights reserved.