LVMH chips away at fortress Hermes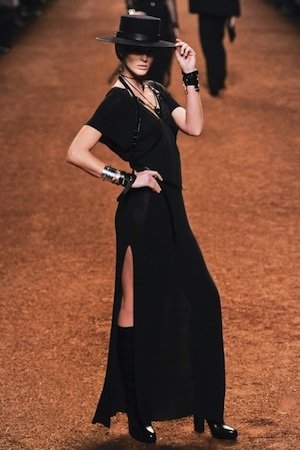 Hermes S/S 2011. Photo : Pixelformula
(Reuters) - The Hermes family faces the most serious test of its unity in 173 years after arch-rival LVMH (LVMH.PA) swooped on the shares of France's biggest independent luxury goods maker.
Hermes (HRMS.PA), known for its printed silk scarves and 4,000-euro-crocodile handbags, argues that the cohesion of its controlling family, which owns 73 percent, and its partnership structure will protect it from LVMH's advances.
An investigation by the market regulator might also give Hermes some ammunition in the short term.
But no matter how close, families are never totally united, especially when, as at Hermes, they are split into different branches -- Puech, Thomas and Guerrand -- made up of 60 different members and there are billions of euros at stake.
"No successful company remains a family company forever," Bernstein luxury analyst Luca Solca said. "As families grow larger, the desire to go separate ways increases - especially from those who are least involved in day-to-day management activities."
LVMH boss Bernard Arnault, who has made no secret of his admiration of his smaller rival, has said he does not plan to bid for Hermes, after acquiring a 17.1 percent stake. However, he has used that tactic before - building a stake in Gucci, for example, as a prelude to a takeover - and analysts say he will likely seek to gain control of Hermes, no matter how long it takes.
Guerlain, one of France's oldest and most prestigious perfume houses, was not strong enough to resist LVMH's approach after divisions in the controlling family, industry insiders say.
LVMH, the world's biggest luxury group, said on Wednesday it would seek to acquire more Hermes shares depending on market conditions.
Arnault just needs to offer the right price at the right time to the right family member and the unity may start to crack, analysts say.
The fifth generation of descendents of Thierry Hermes, many aged between 50 and 80 might be happy to continue living comfortably from the company's dividends, but their children in their late 20s, 30s and 40s, and with a greater need for capital might think differently and seek to cash in.
Although for now, the official stance is rock solid.
"The family shareholders have reaffirmed their attachment to the independence of this house which is the guarantee of its success," Hermes Deputy Chief Executive Patrick Albaladejo told Reuters in an interview on Thursday.
Hermes says its partnership structure means no change in control can take place without family agreement family and its bylaws allow the company to use poison pills in the event of a hostile bid.
And Arnault's approach appeared unfriendly, as he called Hermes Chief Executive Patrick Thomas on Saturday only an hour before LVMH issued a statement saying it owned 14.2 percent of Hermes and would build it up to 17.1 percent.
Hermes' response was equally abrupt.
"Hermes does not need the entry of any shareholder in its capital," Albaladejo said. "We are rather a house of high craftsmanship rather than a luxury player"
DESIRABLE BRAND
Hermes maintained its advertising spend, opened boutiques and held lavish parties for special clients last year even though the industry was hit by the worst downturn in decades.
The strategy paid off. Hermes sales in 2009 rose 4.1 percent at constant currencies while global luxury sales fell 8 percent, according to estimates from U.S. consultancy Bain & Co.
Arnault built his stake using the classic stealth tactic of derivatives such as equity swaps which do not have to be declared to the AMF market watchdog -- and this might prove to be one of Hermes's best defences.
Albaladejo said Hermes planned to "watch closely" the AMF's investigation into LVMH's "complex" stake-building process.
LVMH said this week it had respected all the market rules and would hand over all information necessary to the AMF.
If the AMF condemns LVMH, it would give some ammunition for Hermes to hold out against LVMH, but ultimately there is little the AMF can do to prevent a takeover in the long term.
Despite the aggressive start to his Hermes foray, Arnault may be better off taking a softer approach.
"In the long run, I am convinced that LVMH will be seeking to take control of Hermes but this is likely to take years," Erwan Rambourg, analyst at HSBC said on Friday.
"The end game will be a question of getting to an agreement with family members, not one of forcing the issue with financial means," Rambourg said.
(Editing by Erica Billingham)
© Thomson Reuters 2023 All rights reserved.