Luxottica sees solid 2011 after record year
Jan 24 - Luxottica, the world's biggest premium eyewear group, expects a solid 2011 after stronger demand for luxury brands, especially in the United States and Asia, boosted 2010 sales to record levels.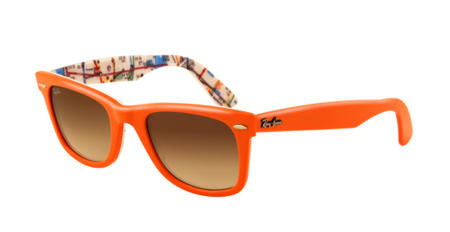 'Rare Prints' collection by Rayban, one of the brands belonging to the Luxottica Group
The maker of Ray-Ban and Oakley sunglasses said on Monday 2010 net sales hit a record 5.80 billion euros ($7.9 billion), helped by consumers' improving confidence in its key U.S. market and a more customer-focused retail business.
Sales were in line with an average forecast of 5.72 billion euros by 21 banks and brokerages polled by Reuters I/B/E/S.
"I firmly believe that if we keep up this good work, 2011 will prove to be the natural evolution of the year that has just drawn to a close and Luxottica will thus continue to post solid, stable growth and increased profitability," Chief Executive Andrea Guerra said in a statement.
The luxury goods industry has recovered strongly from its worst slump in decades, thanks to buoyant demand in Asia and renewed appetite in mature markets such as the United States, which accounts for around 60 percent of Luxottica's turnover.
The Italian group said fourth-quarter sales rose 16.4 percent to 1.35 billion euros, buoyed by its best retail performance of the last four years.
Sales were up 6.5 percent at constant exchange rates.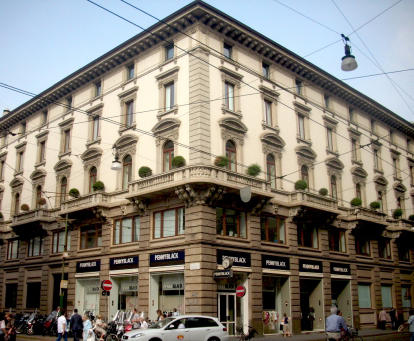 Luxottica's Headquarters in Milan
Luxottica said the start of 2011 was promising and it expected an acceleration in emerging markets, mainly China.
The company confirmed its 2010 net profit target of more than 400 million euros, around 35 percent higher than 2009.
High-end items -- like those sold by Swiss luxury goods group Richemont -- enjoyed robust Christmas sales, Tiffany has said.
Luxottica also makes eyewear for Chanel, Prada, Tiffany and Burberry.
Luxottica shares, nearly 68 percent owned by the Del Vecchio family, closed up 1.22 percent at 22.47 euros before the results were released.
(Editing by David Holmes)
© Thomson Reuters 2023 All rights reserved.