Luxottica raises 2010 net profit target
MILAN, Oct 25 (Reuters) - Luxottica (LUX.MI), the world's biggest eyewear group, is targeting net profit of 400 million euros ($561.5 million) in 2010, above its previous full-year target and 27 percent higher than in 2009, after beating forecasts with its third-quarter results.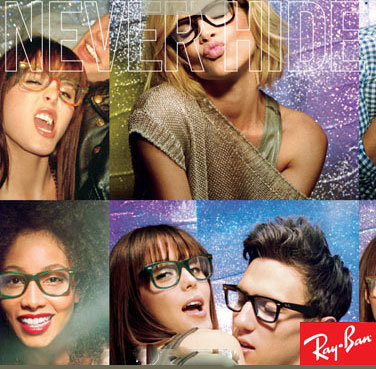 RayBan for Luxottica
The Italian company posted a 34.5 percent rise to 101.9 million euros in net profit for the third quarter, above all analysts' forecasts, helped by strong sales at high-end brands such as Ray-ban and Oakley.
"We hope that the good performance this year will allow us to look to 2011 positively," Chief Executive Officer Andrea Guerra told analysts after the results.
Luxottica said in a statement on Monday net sales rose 19.7 percent to 1.464 billion euros, boosted by growing appetite for luxury goods in mature European and U.S. markets, despite employment concerns and a weakening dollar.
"The results achieved so far allow us to look optimistically toward a year-end that, if we continue to work with the determination and passion shown in recent months, may allow us to reach the threshold of 400 million of net income," Chief Executive Officer Andrea Guerra said in a statement.
The group said in July it was on track to meet its full-year targets of a mid single-digit sale growth for 2010, with net profit expected to rise three times that level.
Luxottica is also targeting a ratio of net debt to earnings before interest, taxes, depreciation and amortisation (EBITDA) of 2 by end 2010, compared with 2.7 last year.
Analysts had expected on average Luxottica to post net profit of 98 million euros in the quarter, in a range of 94 million to 101.7 million euros, according to a Thomson Reuters I/B/E/S poll.
Luxottica approved on Monday the launch of a 5- to 7-year euro bond for up to 500 million euros, aimed at extending maturing debt and fund market operations. The issue, for institutional investors, is expected by end January 2011. Global sales of luxury goods are expected to rise 10 percent to 168 billion euros in 2010 and slow to 3.5 percent next year, according to U.S. consultancy Bain & Co.
LVMH (LVMH.PA), the world's biggest luxury group, beat third-quarter forecasts this month.
Luxottica, which also makes sunglasses for brands such as Prada, Bulgari and Ralph Lauren, has said it expects an annual $100 million revenue boost from a licence deal signed with Coach last month, with production starting from January 2012.
Luxottica shares, nearly 70 percent owned by the Del Vecchio family, closed up 2.2 percent at 21.36 euros before the results were released. (Reporting by Antonella Ciancio; Editing by Karen Foster and David Cowell) ($1=.7124 Euro)
© Thomson Reuters 2023 All rights reserved.