Lululemon tops profit forecasts, shares jump
TORONTO (Reuters) - Lululemon Athletica (LLL.TO) (LULU.O) said on Thursday 25 March its quarterly profit nearly tripled, helped by its line of running gear and a rebound in consumer confidence, sending shares of the specialty clothing retailer to a year high.

The Vancouver-based company, which sells yoga and workout wear, earned $28.5 million, or 40 cents a share, in the fourth quarter ended January 31, up from $10.9 million, or 16 cents a share, a year earlier. The results easily topped the average profit of 29 cents a share forecast by analysts.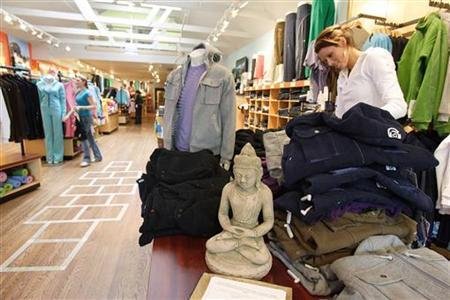 Revenue rose 54.5 percent to $160.6 million.
Same-store sales, which track the performance of stores open for at least a year, rose 29 percent, and Lululemon forecast a first-quarter increase in the high 20 percent range.
Its shares, were up 11.5 percent at C$41.15 after touching a year high of C$41.50 earlier in the session.
"It was a very, very strong quarter. It may have been one of the best quarters that we saw from the holidays. The same-store sales are some of the best in the industry if not the best," said Sharon Zackfia, an analyst at William Blair & Co in Chicago.
"The outlook for same-store sales for the first quarter was for a similar cadence, so that implies that the momentum remains," Zackfia said.
The company expects revenue of $125 million to $130 million in the first quarter, with earnings per share of 18 cents to 20 cents.
For the full year, Lululemon sees revenue in the range of $570 million to $585 million, with earnings per share between $1.00 and $1.05.
It did not specify how many actual stores it will open this year. It opened seven new stores in 2009.
It currently has more than 100 stores in Canada, the United States, Australia and Hong Kong. The company had a long-term growth target of 35 stores per year, but conceded last year that it was not the right time for such aggressive expansion.
Still analysts are impressed with its success.
"It is one of the few growth stories in retail left," said Kristine Koerber, an analyst at JMP Securities in San Francisco. "Who's growing sales 55 percent and putting up close to 30 percent comparable same store sales?"
($1=$1.02 Canadian)
(Reporting by Scott Anderson; editing by Rob Wilson)
© Thomson Reuters 2021 All rights reserved.