Louis Vuitton so last season for China's super chic
SHANGHAI - Daisy Liu epitomizes China's obsession with luxury brands: her shoes are Guiseppe Zanotti, her brooch Chanel, a floral Hermes scarf is stylishly knotted over one shoulder. She won't, however, tote a monogrammed Louis Vuitton handbag ever again.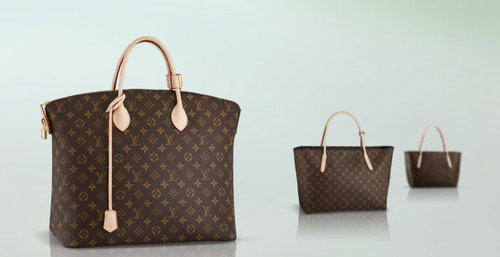 Photo: Louis Vuitton
Wealthy shoppers like Liu are increasingly turning up their noses at labels they believe have been tainted by the common touch, seeking out understated, and exclusive, merchandise from the likes of Chanel or Hermes instead. That is becoming a big challenge for designers hoping to cash in on the world's fastest growing luxury market.
"I have two Louis Vuitton handbags but I no longer carry them although they are still in fashion," said Liu, a 31-year-old employee at a multinational cosmetics firm.
"I don't think the brand fits me any more."
More than a decade of strong economic growth has helped swell the disposable incomes of millions of Chinese, creating legions of men and women with a voracious appetite for status symbols regardless of the cost.
China's importance for firms such as Louis Vuitton's parent LVMH and Gucci's PPR SA is indisputable: last year, as Europe was mired in financial crisis and the U.S. economy faltered, mainland Chinese shoppers spent an estimated 111 billion yuan ($18 billion) on luxury goods, according to consultants Bain & Co.
China is the world's third biggest market for personal luxury goods, worth at least 160 billion yuan ($25 billion). In the next three years, it is expected to leapfrog over Japan and the United States to take the top spot, with the luxury segment expanding to 180 billion yuan ($28 billion).
As it grows, the market is also maturing, moving from so-called aspirational luxury, where bling is king, to what experts call absolute luxury: the desire to be seen as both wealthy and discerning.
"In the past, it was just a checklist. If you were one of the top five brands out of some magazine, you found that people in China just checked the checklist and bought according to the list," said Vincent Liu, partner at Boston Consulting Group.
"Going forward, people will be more selective. They know what and where and when to use what brands and products."
For sophisticated consumers like Liu, that means purchases such as a $2,000 Chanel mini bag and a Prada clutch. She's also eyeing a coral lambskin bag from Bottega Veneta, the Italian fashion house renowned for its signature woven leather goods.
"The truly wealthy, the real millionaires, they will not want to buy LV Louis Vuitton or Gucci because they are too commonplace," said Shaun Rein, managing director, China Market Research Group. "Rich people are getting richer and they want exclusiveness and more self-indulgence."
OVER EXPOSED
China's luxury market is poised to grow 18 to 20 percent this year, steeply outperforming the single-digit forecasts for Europe, the Americas and Japan, according to Bain, explaining the rapid expansion of larger luxury firms such as LVMH.
For years, LV's Monogram "Speedy" tote, a dome-shaped classic favored by Audrey Hepburn, was one of the most desirable bags for Chinese women because it was a clear signal of having made it: the handbag costs double the $400 an average Chinese worker earns a month.
The brand is LVMH's cash cow and revenues are almost double those of Gucci, widely considered its closest competitor.
But as LVMH grew in China - there are currently about 38 Louis Vuitton stores there, including in remote areas such as the southern Guangxi autonomous region, compared to the 57 or so in Japan - it lost some of its cachet.
"In China, Louis Vuitton is seen as the brand that even your ai-yi, or domestic helper, can afford," said a retail consultant who declined to be named in order to be candid.
When asked to comment, LVMH told Reuters via email it expected to "gain a brand new lead on the market" via a new store set to open next month in Shanghai's swanky Plaza 66 mall. "The Plaza 66 will confirm Vuitton as the trendsetting brand in China," the email said.
Gucci did not immediately respond to requests for comment.
LV remains one of China's most popular labels - a recent survey by a strategists Digital Luxury Group put it at the top of web searches by consumers.
But brands such as Chanel and Hermes are catching up fast.
A recent study by consultants Bain shows twice as many Chinese now covet Hermes, creators of the iconic Birkin and Kelly handbags, and the brand is the third most likely to be purchased after Gucci and Louis Vuitton.
"Some prefer Hermes because our products are more subtle and not over exposed," the brand's China president, Leo Liu, told Reuters in an emailed statement.
SOME LIKE IT HAUTE
For Gao Jie, 27, a public relations employee who routinely buys luxury goods, Hermes is the ultimate status symbol: their bags are handmade, come in limited quantities, cost anything between $9,000 to $150,000 and are generally not within the reach of the general public.
Gao says this year she aims to buy a brightly colored Kelly Candy handbag that costs at least four times her monthly salary of 20,000 yuan ($3,100).
"There are some things that are classic by design and widely recognized by the market. I really hope to one day be able to own all these classic designs," said Gao, who regularly sets aside some of her salary, and income from investing in stocks, to buy shoes and bags.
To attract shoppers like Gao, LVMH and other larger luxury brands are trying to strike the difficult balance between exclusivity and popularity to remain profitable.
LVMH is offering customers increasingly expensive and bespoke services to try to retain a mystique around the Louis Vuitton brand, whose creations are seen as being both too common and easily copied.
The company is also careful about rolling out new stores, aware that the brand would suffer from too much visibility.
Whether these strategies will convince savvy Chinese shoppers like Daisy Liu to carry their LV bags is unclear.
"Luxury, embedded in that, is this notion of exclusivity: that not everybody has it. It's always a fine line that the brands need to tread," said Torsten Stocker, partner at business strategists Monitor Group.
© Thomson Reuters 2023 All rights reserved.