Louis Vuitton - Marc Jacobs: the renowned trunk-maker then and now
As stated some months ago, Marc Jacobs is on the move for another famous name. The Museum of Decorative Arts in Paris will open this Friday, March 9 an exhibition that is meant to serve as a mirror between Louis Vuitton, the luggage veteran, and the current artistic director of the fashion house. Marc Jacobs is still very much at Louis Vuitton and this creative face-to-face with the man who created the house in 1854 places him among the founding figures in the history of Louis Vuitton.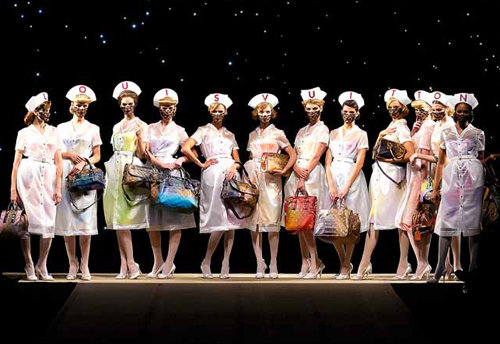 The Louis Vuitton nurses, during the fashion house's spring-summer 2008 fashion show. 
Photo : Louis Vuitton/Chris Moore.
The exhibition, which will be on view until September 16, is presented on two levels. The first floor is devoted to the work of trunk maker Louis Vuitton and his visionary talent. Just when the latter settled in his shop at 4 rue Neuve des Capucines, the business was about to experience a fabulous development: the industrial revolution, which enabled both tourism and high fashion to emerge. The exhibition's design, which was created by Joseph Bennett and Samantha Gainsbury and the selections by Commissioner Pamela Golbin, aim to impart a nineteenth century perspective as well as outline its new needs (and quirks) all of which Louis Vuitton was able to capture.
The upper floor is devoted to Marc Jacobs' work since joining the house as artistic director in 1997. Now LVMH wants to revolutionize the fashion house entrusting him with the first collections of ready-to-wear and accessories. In his own way, then, the American designer takes over the story of Louis Vuitton to write another chapter. In a sense, he is the founder of a new era who managed to take the pulse of his times and to ensure the inclusion of Louis Vuitton in the rapidly-globalizing luxury goods market. His insights have allowed lines of ready-to-wear and leather goods to make history despite their relative youth.

But even if this show does not especially wish to be a retrospective, it still renders tribute to the house, supported by Marc Jacobs who salutes it, saying: "It is a wonderful name. A brand which is famous, unique, and which will exist after I am gone. Vuitton is not a fashion house. We do things that are fashionable, we introduced the idea of fashion, which changes with the moods of the times, and celebrates icons of popular culture . But the heart of the brand is unchanged and unchangeable, which is all the better." So then: Louis Vuitton - Marc Jacobs forever?

Louis Vuitton-Marc Jacobs 

from March 9 to September 16 

Musée des Arts Décoratifs 
107, rue de Rivoli, Paris.
Copyright © 2022 FashionNetwork.com All rights reserved.