Louis Vuitton chooses former Danone exec as new chief
PARIS, Sept 14 (Reuters) - Louis Vuitton, the star brand within the world's biggest luxury group LVMH , on Wednesday unveiled a succession plan which will see a former Danone executive, Jordi Constans, take the executive reins as of 2013. Yves Carcelle, 63, chief executive of the French leather goods maker since 1990, will remain on the executive board of LVMH and be in charge of strategic missions for Bernard Arnault, Chairman and Chief Executive of LVMH. "This is of course about an organised succession, not a replacement," a spokesman for LVMH said on Wednesday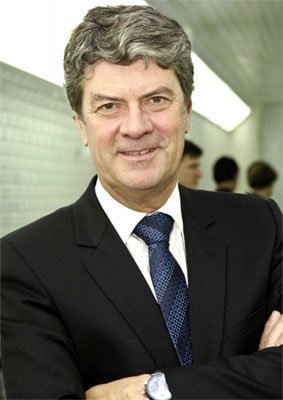 Yves Carcelle. (c) PixelFormula
Carcelle will also become chairman of the brand's foundation which is to open its doors in early 2013.
Louis Vuitton, which generates nearly 6 billion euros ($8.2 bln) in annual revenues and contributes more than half of LVMH's operating profits, said 2012 would be a transition year during which Constans would work alongside Carcelle to learn about the brand and the job.
Constans, 47, originally from Spain, was head of Danone's fresh dairy products division, the group's biggest, and a member of its executive board since 2008. He joined Danone in 1990.
The nomination comes as LVMH's other major brand Dior is in talks with Marc Jacobs, Louis Vuitton's artistic director, to replace John Galliano, sources close to the matter have said.
However, this week fashion media reported negotiations between Jacobs and Dior were stalling, partly on money issues. If Jacobs leaves Vuitton, there has been speculation that Phoebe Philo, designer at sister brand Celine, would replace Jacobs at Louis Vuitton.
LVMH shares, which have lost 11.4 percent since Jan.1, closed up 2.5 percent at 111.80 euros on Wednesday.
© Thomson Reuters 2023 All rights reserved.