Longchamp sees sales up, helped by Kate Moss
Mar 3 - Longchamp, one of France's leading handbag makers whose designers include model Kate Moss, expects 2011 sales to rise more than 10 percent but warned that a lack of craftsmen could hold back growth.


"Kate Moss for Longchamp" - The Story & Behind The Scenes
The brand, which bears the logo of a jockey on a racing horse, enjoyed a strong rebound in 2010 with sales up 23.5 percent at current exchange rates and a notable improvement in profitability, Chief Executive Jean Cassegrain told Reuters.
This year, growth will return to historical levels after diving to 4 percent during the slump of 2009, he said.
"In 2011, our sales should increase significantly, above 10 percent," Cassegrain, grandson of the company's founder, said in an interview. "The main factor holding back our growth is our production means. It is not easy to hire and train craftsmen."
Longchamp plans a one-off ad featuring Moss on prime-time French TV this Sunday to help raise its profile and attract workers, Cassegrain said. Encouraging employees to work extra hours was another option to resolve production staff issues.
Bernard Arnault, founder and CEO of luxury group LVMH, said last month its Louis Vuitton brand also faced staff shortages and was investing in new production facilities.
Founded in 1948, Longchamp is one of the last remaining independent family-owned leather goods makers in France with a global presence. It takes its name from the horse racing course just outside Paris along which its founder liked to walk.
The brand, which estimated in September that sales would exceed 300 million euros ($416.6 million), generated revenue of 321 million last year, against 260 million in 2009. Sales growth at constant currencies was 21 percent.
Longchamp's growth was comparable to that of handbag maker Hermes, whose revenue rose 25.4 percent last year, or 19 percent at constant currencies.
Longchamp targets a more affordable luxury segment than Hermes, with bags costing 200-600 euros. Hermes leather bags usually start at 1,000 euros and can reach 80,000 euros.
LVMH's fashion and leather goods division, which includes other Longchamp rivals such as Celine, Fendi and Loewe, posted a 20 percent jump in sales in 2010, or 13 percent like-for-like.
Longchamp also competes with Richemont's Lancel and U.S.-based Coach, which recently entered Europe.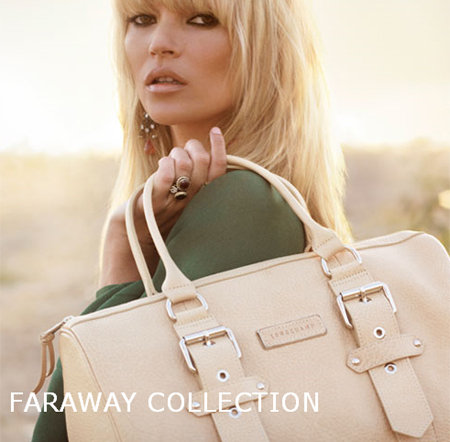 Kate Moss for Longchamp - Faraway collection
READY TO WEAR
Two-thirds of Longchamp's bags are made in France and the other third is made in Morocco, Tunisia, China and Mauritius.
Cassegrain said bags designed by Moss, who has been with the brand for more than five years, made up a significant portion of sales. Other collections are designed by his sister Sophie Delafontaine.
A good third of sales are in France, another third is in the rest of Europe, with the balance in Asia and North America.
The brand's new summer/spring bohemian-style collection features sand-coloured satchels, oversized woven bags and braided leather straps.
Cassegrain said Longchamp was also slowly expanding its ready-to-wear operations, which last year saw the introduction of boots in addition to existing shoes, coats and skirts.
The brand, which has 220 directly operated stores and 60 under franchise, opened some 15 outlets in 2010 and plans to open as many again this year in European cities such as Lausanne and Milan, as well as in Los Angeles and in Asia.
Longchamp spends the bulk of its resources opening new shops as it is keen to control its image and distribution network, Cassegrain said, adding that it generated sufficient cash to fund its expansion and did not need external investors.
(Editing by James Regan)
© Thomson Reuters 2023 All rights reserved.