Liz Claiborne revamp drives upbeat outlook; share rise
Revamping efforts at Liz Claiborne Inc (LIZ.N) seem to be working as the U.S. clothing maker posted a much smaller-than-expected loss and said it would turn profitable on an adjusted basis in the fourth quarter.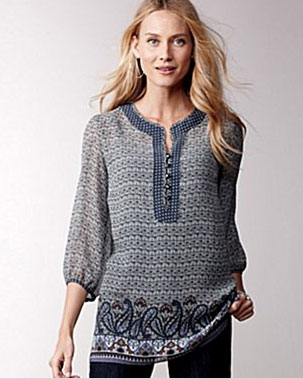 Liz Claiborne at www.jcpenney.com
The company's shares, which were up 6 percent following the results, shot up 12 percent on the upbeat outlook.
Liz Claiborne, which has not seen a profit in about three years now, has been making a major push to restructure itself by closing underperforming stores and hiking marketing spend.
It was also working on its underperforming brands and struck a deal with J.C. Penney Co Inc (JCP.N) to sell its namesake line exclusively at the department store.
Liz Claiborne said the new deal for its namesake brand will bring about a 500 basis point improvement in its adjusted gross margin in the second half.
"Three years of work on the portfolio, on resource allocation, on channel mix ... on inventory and inventory systems and on cost structure are beginning to yield an improved earnings picture," Chief Executive William McComb said on a call with analysts.
The owner of the Juicy Couture, Kate Spade and Lucky Brand chains said adjusted income in the third quarter would be flat to slightly negative, while the fourth quarter would turn positive for the company.
Liz Claiborne said clean inventories would mean a lower markdown rate across all of its segments.
The company also said about 85 percent of adjusted operating income in the second half of the year would come from a turnaround in its Mexx Europe and Partnered Brands.
For Partnered Brands, the introduction and licensing revenue from JC Penney and Liberty Media Corp's (LINTA.O) QVC television shopping network would drive sales, the company said on a call with analysts.
For Mexx, the company expects same-store sales to return positive by the fourth quarter, as it sells more higher margin products and gets into underpenetrated categories like outerwear and sweaters.
SAME-STORE DECLINE STEMS
Overall same-store sales declines too have slowed, from meaningful double-digit declines to single-digit fall in the last two weeks of July compared to the first two weeks, the company said.
"This improvement in trend has continued into August, with women's fashion leading the improvement, leaving us feeling cautiously optimistic about the outlook for the second-half of 2010," a company executive said on the call.
Earlier in the day, retailers across the board posted July same-store sales numbers, with most of them putting up a bleak show.
For a graphic on U.S. July same-store sales; link.reuters.com/nun53n
For the second quarter, Liz Claiborne reported a quarterly loss much smaller than expected, helped in part by tight inventories and better margins at its Juicy Couture and Kate Spade brands.
Net sales fell 16 percent to $570 million, due in part to the loss of sales from the Liz Claiborne brands that are now licensed to J.C. Penney and QVC.
Liz Claiborne shares were up 13 percent at $5.64 in midday trade Thursday on the New York Stock Exchange.
(Reporting by Nivedita Bhattacharjee; Editing by Gopakumar Warrier and Maju Samuel)
© Thomson Reuters 2023 All rights reserved.