Lindsay Lohan's fashion adventure ends after one show
PARIS (Reuters) - Hollywood actress Lindsay Lohan's design career has ended after a single collection for Parisian label Emanuel Ungaro, leaving the fashion world divided over whether her work was a disaster or a much-needed bit of fun.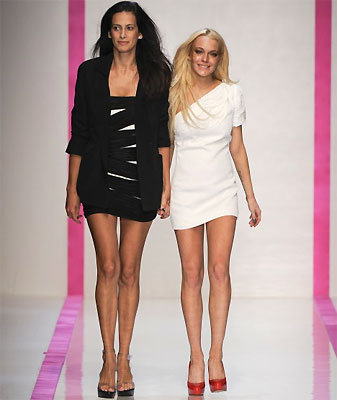 Photo : PixelFormula
Ungaro designer Estrella Archs, who worked with Lohan on last year's widely panned show of buttock-revealing dresses and strippers' nipple stickers, showed her second Ungaro collection on Monday 8 March. She said Lohan had no hand in it.
"You have up and downs and you learn a lot, more from the downs than from the ups," Archs told reporters backstage when asked about the dire reviews of last year's show with Lohan, who acted as artistic adviser.
"I feel that I have to work, work, work and work ... I've been doing this for a long time, with different people and different houses, and I think this is the best medicine," said Archs, looking close to tears.
Their joint collection has just hit the shops, but Lohan has gone back to buying rather than producing fashion -- she was seen at Roberto Cavalli in Milan, and was invited to Dior in Paris on Friday 5 March, though she came late and missed the show.
Archs, with no entertainment career to fall back on, has stuck with Ungaro, turning out an autumn/winter collection of jewel-coloured dresses, bustier tops and leopard print trousers.
She can take heart at the fact that retailers have, on the whole, been less vitriolic than critics.
ROOTING FOR LINDSAY
Online boutique net-a-porter.com dropped Ungaro after Lohan's debut, but others have been positive.
"I loved the little short silk dresses that Lindsay and Estrella designed, there were great colours, it was fun, short, sexy," Stephanie Solomon, fashion director at Bloomingdale's, told Reuters at the Ungaro show.
"I've been doing this long enough to understand it's not necessarily the press reaction. Ultimately, it's the customers' reaction," said Solomon, who ordered from Lohan's collection.
She predicted that Lohan's style would attract a younger crowd -- which was the reason why Ungaro originally hired the actress who is also a model and singer.
Mounir Moufarrige, chief executive at the time, had hoped the star of "Mean Girls" would revive the brand. Moufarrige resigned in December, weeks after Lohan's show.
The fashion house now appears to be uncertain over whether it should pretend the Lohan collection never happened, or be proud of its Hollywood connection.
A week before the show, Ungaro's press department firmly said that the actress was still working as artistic adviser. At the show, Archs said just as firmly that Lohan was not involved.
Either way, the clothes were slightly more subtle this time around. A short black polka dot dress was accessorised with grass green shoes, bag and belt, while a vibrant purple-pink dress was matched with red shoes.
"I don't know if that makes any difference in the world," Bloomingdale's Solomon said, referring to Lohan's departure. "It all comes down to the clothes."
By Sophie Hardach
© Thomson Reuters 2023 All rights reserved.