Limited Brands profit beats view, raises outlook
Limited Brands Inc (LTD.N), parent of lingerie chain Victoria's Secret, reported a higher-than- expected quarterly profit, as tight expense control boosted operating margins and raised its profit outlook for the year.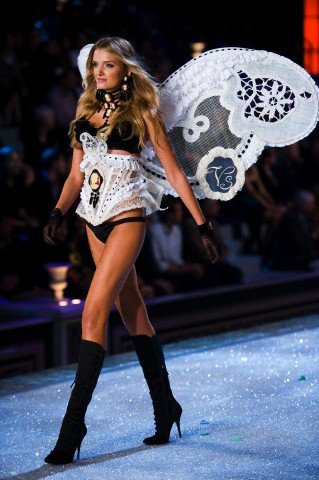 2011 Victoria's Secret Fashion Show / Photo: Corbis
However, the company, which also operates the Bath & Body Works and La Senza chains, forecast a profit for the key holiday quarter mostly below analysts' expectations.
The company's shares edged down to $42.70 after closing at $42.97.
Limited's stock had risen 40 percent through Wednesday, outperforming a 18 percent rise in the S&P Apparel .GSPRETA index, as the company enjoyed some of the biggest same-store sales among U.S. retailers as shoppers spend more on items such as lingerie and body creams.
For the holiday quarter, the company expects an adjusted profit of $1.28 to $1.43 a share. Analysts were looking for a profit of $1.42 a share, according to Thomson Reuters I/B/E/S.
Limited posted third-quarter net income of $94.3 million, or 31 cents a share, down from $61.3 million, or 18 cents a share, a year ago.
Excluding items, the company earned 25 cents a share, beating analysts' average estimate of 24 cents.
Operating margins in the quarter ended October 29 rose to 8.6 percent from 7.53 percent in the year-ago period.
Earlier in November, the company said quarterly sales rose 10 percent to $2.17 billion.
Limited now estimates a 2011 profit of $2.38 to $2.53 a share, up from $2.35 to $2.50 previously.
(Reporting by Mihir Dalal in New York; editing by Richard Chang and Andre Grenon)
© Thomson Reuters 2023 All rights reserved.