Limited Brands' net income up 27 percent
SAN FRANCISCO | Wed Feb 23, 2011 - Limited Brands Inc (LTD.N) said on Wednesday fourth-quarter net income rose 27 percent, in-line with its recently raised forecast, as fewer markdowns and more full-priced selling boosted results.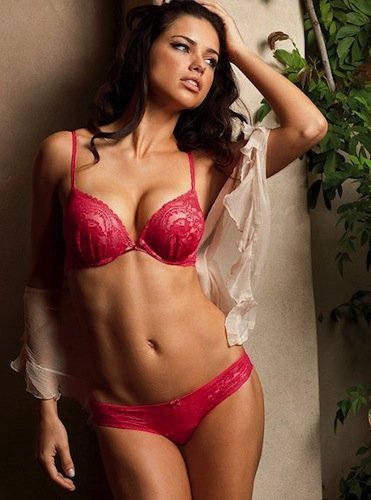 Adriana Lima for Victoria's Secret Very Sexy Push-up
The operator of the Victoria's Secret and Bath & Body Works chains also gave a first-quarter outlook range whose midpoint was below analysts' average expectations.
The company's shares were nearly flat after the announcement.
Net income in Limited's holiday fourth quarter rose to $452.3 million, or $1.36 per share, from $356.1 million, or $1.08 per share, a year earlier.
Adjusting for pre-tax gains related to the Express chain, which the company has sold, earnings were $1.26 per share.
That was a penny above what analysts, on average, had been expecting, according to Thomson Reuters I/B/E/S.
Earlier this month, Limited raised its fourth-quarter profit view to a range of $1.23 to $1.25 per share from an earlier view of $1.02 to $1.17 per share.
As previously reported, sales rose 12.8 percent to $3.46 billion on a 10 percent rise in same-store sales, a key gauge of retail performance.
Limited Brands has enjoyed a spurt of strong same-store sales as consumers are spending again on lingerie and bath products sold at its two main brands.
January same-store sales, for example, rose a whopping 24 percent, helped by a semi-annual sale -- a result that far outpaced rivals.
Limited's shares have risen steadily over the past year as sales improved and are up 51 percent from February 2010.
Moreover, analysts cite the company's lower risk to cost inflation versus other mall-based chains, given its low exposure to cotton.
Limited expects 2011 earnings per share to range between $2.15 to $2.35. For the first quarter, it sees earnings between 26 cents and 31 cents per share.
Wall Street has been expecting full-year profit of $2.26 and first-quarter earnings of 30 cents per share.
The shares fell 26 cents in after-hours trading after closing down 2.3 percent at $31.77 on the New York Stock Exchange.
(Reporting by Alexandria Sage; editing by Carol Bishopric and Andre Grenon)
© Thomson Reuters 2023 All rights reserved.