Li Ning shares at 3-week low as key execs depart
May 25 - Chinese home-grown sporting goods brand Li Ning Co Ltd said three key executives had resigned, deepening concerns about its business prospects and sending its shares to their lowest in three weeks.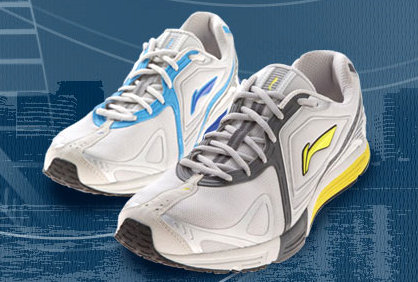 Li Ning running shoes
The executives "resigned from their respective positions with the group to pursue their personal interests," the company said in a statement, without identifying them.
A Li Ning spokeswoman said the three were chief operating officer Guo Jian-Xin, chief marketing officer Fang Shih-Wei and e-commerce manager Lin Li.
Although Li Ning dismissed the departures as normal and said they would have no impact on the firm's strategies and operations, investors seem to be losing confidence in the company -- China's third-largest in terms of apparel sales, a field led by Nike , according to Euromonitor.
Shares of Li Ning fell further on Wednesday after tumbling more than 8 percent on Tuesday amid resignation rumors.
They dropped 1.4 percent to HK$13.70 in late morning trade, the lowest since May 5, before recovering to HK$13.78 by midday, underperforming a 0.55 percent fall in the benchmark Hang Seng Index .
Analysts said the personnel changes suggested disagreements among executives over the future direction of the firm.
"Certainly, people are losing confidence in the company," said Alex Wong, a director at Ample Capital. "They feel uncertain about its strategy execution and business direction."
"Since the management is not stable, it is even harder to say what it can and will do next in developing its business," Wong added.
Li Ning said it had a "rich talent pool" and would continue to focus on implementing strategies to improve business performance.

FALLING ORDERS
Li Ning's shares have fallen more than 16 percent so far this year on investor worries about its sales outlook amid rising production costs and growing competition.
Founded by a former Chinese gymnast who won three gold medals at the 1984 Los Angeles Olympics, the firm has reported a decline in orders for two quarters in a row.
It has projected order growth would decline in the third and fourth quarters compared to the previous two quarters, but saw a slight improvement in store sales for 2011.
Local rivals ANTA Sports Products Ltd and Peak Sport Products Co Ltd , meanwhile , have both recorded about 20 percent rises in third-quarter order book values.
Li Ning has said it plans to open more stores, especially in second- and third-tier cities, and has also been trying to shake up its distribution channels.
"I don't see any advantage for Li Ning to expand into second-tier market," said Conita Hung, head of equity research of Delta Asia Financial Group.
Li Ning has forecast its number of stores in China would rise to 9,400 in 2013 from 8,300 this year.
By Donny Kwok
(Editing by Charlie Zhu and Jonathan Hopfner)
© Thomson Reuters 2022 All rights reserved.