Lectra strengthens its presence in India
Lectra, the producer of technology solutions dedicated to industries using soft materials, has just announced the opening of two new offices and an international call centre in India.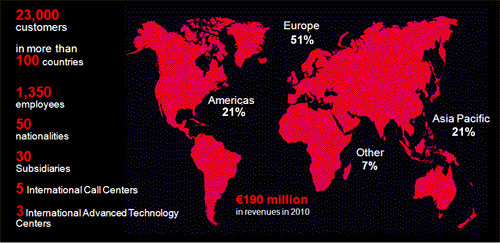 Lectra's international presence
The company also announced that its team in India will be doubled to 24 people. One of the new offices, located in Delhi, will cover the states in North India, where many fashion companies are based. The second office, found in the town of Tirupur, will cover the southern states. Tirupur is the foremost garment cluster in India and has a significant presence at the lower end of the international hosiery and knitwear market. Tirupur also accounts for more than 50% of cotton knitwear exports from India.
In addition to this, Lectra has also chosen Bangalore as the location for its sixth international call centre, with the other five found in Bordeaux, Milan, Madrid, Atlanta and Shanghai. In line with its development strategy to support India's fast-growing market, Lectra has also decided to strengthen its sales and distribution network by collaborating with three Indian sales partners: Magnum Technology Solutions, Imperial Group of Companies and Alpine Knits.
Lectra currently serves 23,000 customers in more than 100 countries. In 2010, the company reported a total revenue of 252 million dollars.
Copyright © 2023 FashionNetwork.com All rights reserved.