Karl Lagerfeld for Macy's available next year
Nov 24 - Fast-fashion collaborations are proliferating thanks to their almost inevitable and immediate success. By making luxury items affordable, many fashionistas can thus share the dream.

After Macy's successful collaboration with Madonna's daughter, Lourdes, for the latter's brand 'Material Girl', the American retailer has been courting Karl Lagerfeld, one of the most prestigious luxury designers of our time. The 'Kaiser' has not only agreed to design a low cost collection for Macy's, but is all in a flutter about this project.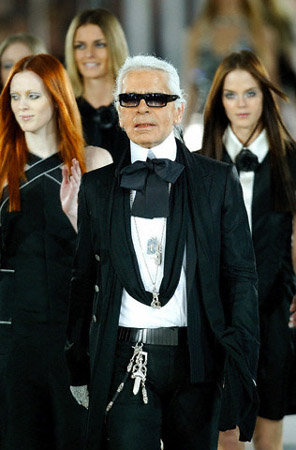 Karl Lagerfeld
Six years ago, Chanel's artistic director collaborated with Swedish chain retailer H&M; the collection sold extremely well. Macy's one off collection by Karl Lagerfeld will be sold starting September 2011 on Macy's online shop and 250 selected stores.
In a recent interview, Karl Lagerfeld said that creating low cost fashion collections is very amusing to him because "for people who are very well off they have fun buying inexpensive items, but on the contrary, for people who cannot afford luxury, it's brilliant that they now can. It's a new type of snobbishness".
Terry J. Lundgren, chairman, president and chief executive officer of Macy's Inc, told WWD that 'Karl Lagerfeld holds a unique place in the world of fashion, an icon who is the ultimate modernist. Through the decades, his style and vision have marked the history of design. It is a tremendous honour to bring his inimitable perspective to our fashion customer.'
Macy's has made it clear that it will continue to collaborate with more designers as has H&M for several years now. Consumers will indeed be able to spoil themselves with future collections from Kinder Aggugini, Vivienne Westwood, Paul Smith, Calvin Klein, Costume National and even Versace.
Christian Layolle
Copyright © 2023 FashionNetwork.com All rights reserved.