Kao prepares an eco-technology research centre
The Kao group announced that work would start on a new eco-technology research centre just south of Osaka in January 2010. This project was unveiled a few days after the launch of a new image for the cosmetics group, with the maxim: "enriching lives, in harmony with nature".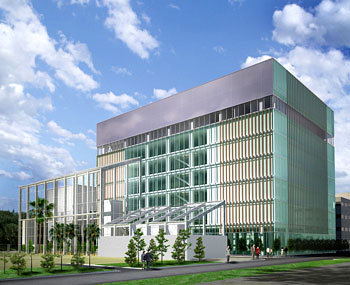 The future eco-technology research centre for Kao
From February 2011 the new site should bring together all of the environmental research departments of Kao. The group plans to draw on this in order to accelerate the process of product development and necessary undertakings, particularly through a new building dedicated to biomass research. Also, the site will house the Kao Eco-Lab Museum. The museum will be an exhibition space that retraces the ecological experiences of the business and is intended to strengthen the group's communication of its attachment to sustainable development.
The future Kao Eco-Lab Museum
Furthermore, Kao has announced the adoption of a new "business identity". Along with its aforementioned enriching new slogan, the group has also taken on a new logo. Though the famous green moon has been retained, Kao has dropped its native Japanese language for lettering in the latin alphabet in order to be more international. And to take up it's "3 R's" (Reduce, Re-use, Recycle), Kao has started "Eco together", a programme which will be applied until 2020 in which the group campaigns for a limit on CO2 emissions and the use of non-polluting processes industy-wide.
By Jonathan Fulwell (Source: Matthieu Guinebault)
Copyright © 2022 FashionNetwork.com All rights reserved.