John Rocha celebrates "surviving" 25 yrs in fashion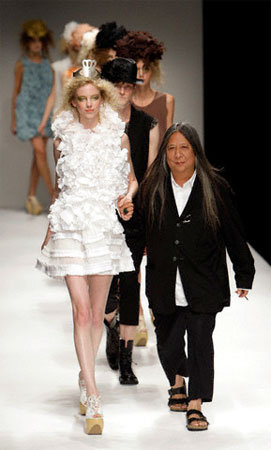 John Rocha at London Fashion Week with his S/S Collection 2010. Photo : Corbis
(Reuters Life!) - He has designed jewellery, crystal glasses and hotel interiors, but 25 years after he first showed his creations on the catwalk in London, fashion is still king for John Rocha.
The Hong Kong born designer will show his latest collection at September's London Fashion Week, after more than two decades at the forefront of British and Irish design, during which he has taken on various projects to stay challenged.
"It's great to be still doing it. It's a big celebration to be surviving and still doing what I love to do," Rocha told Reuters in an interview in his studio.
Rocha, of Chinese and Portuguese descent, moved to London in the 1970s to study fashion. He used Irish linen for his graduate collection and was so enraptured he visited Ireland and later moved to Dublin where he still lives and works with his wife Odette.
He is known for his love of handcraftsmanship and tactile fabrics and his portfolio includes womenswear, menswear, accessories, designing for Waterford Crystal as well as hotel and residential projects.
"All these different challenges help me feel more challenged," he said. "It's great to diversify ... (but) fashion is the main thing I do because without fashion I don't think I would be here today."
Rocha, who has previously been named British designer of the year and made a Commander of the British Empire by Queen Elizabeth in recognition of his services, also has a diffusion of lines for British department store group Debenhams.
He designs clothes, accessories and home collections, and says the partnership has given him bigger distribution and better cash flow. In 2009, his business had a turnover of more than 200 million euros ($256 million) and he sees it flat this year.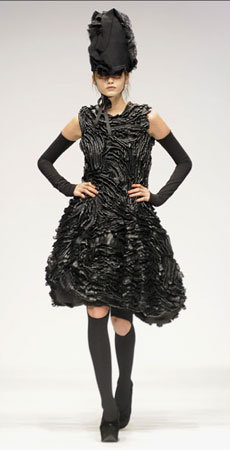 John Rocha A/W Collection 2010
"Because we are so spread out, because there are so many categories of what we do - I'm not the smartest businessman of the world - but because of that we're lucky," he said. "For the first time in years, we don't grow, we just stay where we are."
He still sees a way to go for recovery though, especially at home in Ireland, which crawled out of the longest recession of any euro zone country in the first three months of this year.
"I don't think we will go back to where we were," he said.
"On retail side, confidence is beginning to come back but it's not enough to make a big impact yet. Recession is like the builder in the house: they have to go, they can't stay forever."
Many fashion houses are focusing on China as the driving force for demand for luxury goods but Rocha thinks there are still cultural challenges ahead. "The fact that I was born in Hong Kong, I can understand the Chinese mentality. They all want to see something so obviously in your face and our fashion is so understated," he said. "Our crystal is doing very well -- they say this is Waterford Crystal and this is expensive."
Rocha, honoured along other designers with his own Irish postal stamp, says he is working "from the inside, out" with undergarments for his September show. His daughter Simone is following him into fashion, and will also show in London.
"She's a much more talented designer than I was at that age," Rocha said. "I'm looking forward to seeing her show."
(Writing by Marie-Louise Gumuchian, editing by Paul Casciato)
© Thomson Reuters 2022 All rights reserved.