JJB Sports sales dive but says will survive
By James Davey
LONDON (Reuters) - Struggling sportswear retailer JJB Sports Thursday 21 May vowed to survive after suffering a haemorrhaging of sales as key suppliers, such as Nike Inc and Adidas, cut deliveries because they feared the firm faced administration.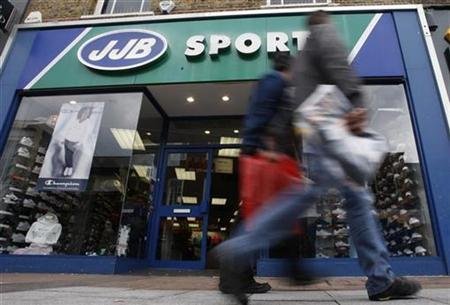 JJB said revenue slumped 42.1 percent in the 16 weeks to May 17 and was down 23.3 percent on a like-for-like basis. Gross margins collapsed by 580 basis points.
It also posted an adjusted net loss before tax of 8.6 million pounds for the year to January 25, in line with company guidance, and booked exceptional and one-off charges of 180.6 million pounds.
"I really do believe we can survive ... If I didn't think we could survive I wouldn't be wasting my time," Executive Chairman David Jones told reporters on a conference call.
Jones, a former chief executive of fashion retailer Next who was parachuted in to JJB in January, said the firm had not been approached by rival JD Sports Fashion regarding a possible takeover and nor would one be welcome.
Since joining JJB, Jones has put the group's Original Shoe Company and Qube shops into administration, sold its fitness clubs business to David Whelan for 83.4 million pounds and secured backing from creditors and shareholders for a company voluntary arrangement (CVA), a rarely used insolvency process that should help the company stay in business.
He described JJB's previous management, led by CEO Chris Ronnie, who was dismissed in March, as "a catalogue of disaster."
JJB shares have lost 79 percent of their value over the past year but have rallied by 51 percent over the past month.
The stock was down 1.75 pence, or 6.25 percent, at 26.5 pence at 1025 GMT, valuing the business at 63 million pounds.
"We believe that the decrease in like-for-like retail sales is largely as a result of low stock levels (down 47 percent year-on-year), the negative publicity which has surrounded the company, and the current retail environment," JJB said.
The firm, which had year-end net debt of 34.4 million pounds, said many suppliers had been reluctant to provide stock due to the lack of trade credit insurance and a belief it was likely to go into administration.
Jones warned that as lead times between the ordering of product and its delivery can be up to six months he did not anticipate any significant improvement in sales until the fourth quarter of 2009.
But he said that since the CVA was approved on April 27 relations with Nike and Adidas had significantly improved.
"They are as keen as we are to get the company sorted, because they don't want to see the (UK) sportswear trade narrowing any further," he said.
The CVA will see JJB settle the claims of landlords of 140 closed stores and move from quarterly to monthly rent payments on 253 remaining stores, easing the pressure on cash flow.
The CVA is expected to take effect on or around May 28, with new financing of 50 million pounds from Barclays and Lloyds expected to become available days later.
"JJB has been brought back from the brink and with an improving consumer cashflow outlook for 2009 the chance of restoring the trading performance is improved," said analysts at Citi in a research note.
(Editing by David Cowell)
© Thomson Reuters 2023 All rights reserved.