JJB Sports fails to score on Euro 2012, shares tank
British sportswear retailer JJB Sports Plc said sales fell sharply for the first half of the fiscal year as the Euro 2012 championship failed to boost demand, already hurt by bad weather, sending its shares down 29 percent.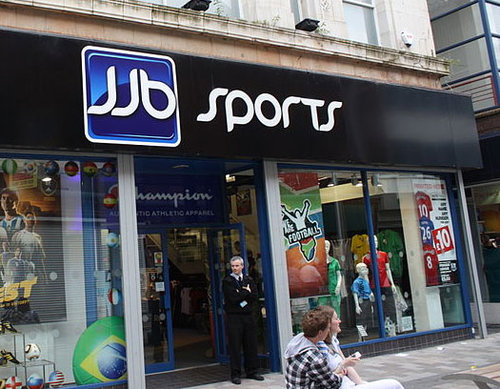 Photo: JJB Sports
JJB Sports has been losing money for more than three years and has suffered from the success of larger rivals.
It received a lifeline when U.S. retailer Dick's Sporting Goods Inc invested 20 million pounds in the company in April.
JJB's sales warning on Monday would be a red flag for larger rivals like Sports Direct International Plc, Seymour Pierce analyst Freddie George said in a research note.
British sports goods retailers such as JJB Sports, Sports Direct and JD Sports Fashion Plc hoped to benefit from back-to-back sporting events such as the Euro 2012, Wimbledon and the London Olympics.
Like-for-like sales for the 22 weeks ended July 1 fell 8 percent, hurt by poor weather conditions, JJB Sports said.
Britain faced record rainfall in April and June.
JJB Sports also said Robert Corliss would replace Mike McTighe as chairman, effective September 1.
Shares in the company, which counts Bill Gates among its major shareholders, were fell to 7 pence at 0754 GMT, in its sharpest fall in more than a year.
The stock was the biggest percentage loser on the London Stock Exchange.
Shares in Sports Direct fell 2.6 percent while JD Sports' stock was 4 percent.
© Thomson Reuters 2022 All rights reserved.