Jean-Paul Knott leaves Cerruti
Belgian designer Jean-Paul Knott has not been the artistic director of Cerruti since the end of June. The fashion house is currently searching for a new talent to take over the position for ladies' collections; menswear is under the direction of Jesper Borjesson.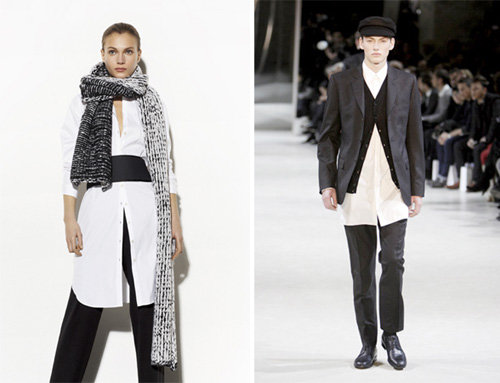 Cerruti women's and men's collections autumn/winter 2009-2010
Arriving in October 2007 and succeeding Nicolas Andreas Taralis, Jean-Paul Knott succeeded in putting Cerruti back in the spotlight and relaunching its ladieswear collections. But now, after some tension with the directors of the label, the designer has chosen to leave in order to concentrate on other projects, most notably on his eponymous brand.
Internally, an intermediary has already be found in Swedish stylist Jesper Borjesson – who is already in place – for menswear collections. The house has appointed Philippe Deniset, (formerly of Sonia Rykiel) who has been at his side for the last month as director of menswear collections.
At the same time, the direction for womenswear collections is being overseen by Marianne Zenie, who already works for the label, and it is in this department that the hunt for a stylist has been launched. Advised by Jean-Jacques Picart, Cerruti is looking for a new person who is "not someone famous", specified the company.
Cerruti is furthermore in the process of redesigning its flagship store at La Madeleine, with work having just commenced and the re-opening planned for the beginning of 2010.
In the meantime, the label is planning the opening of an ephemeral boutique for men on the 15th of September in the Galerie des Trois Quartiers in Paris.
By Jonathan Fulwell (Source: C. Vautard)
Copyright © 2023 FashionNetwork.com All rights reserved.